Lying at the intersection of gaming and decentralized finance, GameFi is attracting widespread attention from the crypto world.
For both players and investors, the appealing themes brought together by GameFi are re-shaping the way in which we interact with digital experiences and online games, from owning assets to making money for simply enjoying our favorite game.
And as GameFi continues leading the race of technological innovations re-shaping the gaming industry, you might want to dive deeper into it.
What Is GameFi?
GameFi stands as the combination of the words "game" and "finance". In doing so, GameFi brings together blockchain technology, including NFTs, cryptocurrencies and decentralization, and advanced gaming mechanics to create virtual environments where players can generate income from simply playing and enjoying their gaming experience.
GameFi powers blockchain games where players are financially rewarded for the time and effort they put into playing. This model is better known as Play-to-Earn. Economic incentives might include tokens, upgrades, avatars, virtual land and much more. Typically, players are rewarded for completing game-related tasks like creating original content, mining resources, progressing through different levels and battling other gamers.
Unlike traditional video games, GameFi allows players to not only earn and collect in-platform assets, but also transfer them across different games and platforms. In doing so, gamers can also monetize their experience by selling or trading their items. In other words, beyond the economic rewards, GameFi presents the players with the chance of owning digital assets that can be part of transactions across different platforms.
This is made possible thanks to decentralization and NFTs, which bring a brand new type of digital ownership to the table.
Until recently, games took place within a siloed, centralized ecosystem, controlled solely by developers. No matter how much time and dedication you'd put into playing your favorite title, at the end of the day your treasured collection of coins, prizes, avatars, weapons and other assets was never really yours and ultimately had no real world value. By letting players have real ownership over their gaming items, GameFi and play-to-earn have paved the way for an economy based on player empowerment.
This trend is hardly something to be scoffed at. After all, the blockchain gaming industry saw a staggering 2000% growth between last year and the first quarter of 2022, with billions pouring into this segment of the market. The adoption of blockchain technology by developers is also driving a wider market expansion, with projections showing a double-digit growth over the next decade, to $545.98 billion by 2028.
So, now that you know what GameFi is, let's take a closer look at how it all works.
How Does GameFi Work?
While the concept is still fairly new, GameFi holds the promise of driving massive expansion across the entire industry by integrating gameplay, NFTs, play-to-earn and decentralized finance.
As we explained earlier, in GameFi, digital assets like plots of land, avatars, virtual clothing, special powers and weaponry are represented by non-fungible tokens, allowing players to take ownership over them. Through gameplay, you're able to earn more items and have the option of trading them via an NFT marketplace both inside a game and outside, thus opening up new monetization avenues.
The specifics - and rewards - differ depending on the game, ranging from completing tasks, developing mini-games and building virtual infrastructures to designing wearables and battling other players. In addition, players are also increasingly drawn to GameFi and P2E because of the potential to earn passive income through renting, lending or staking assets.
Before we more forward, let's break down the main components of GameFi:
Blockchain
Blockchain technology is the foundation of GameFi platforms. The majority of blockchain games are built on the Ethereum network, although GameFi protocols like Polygon, Polkadot and Solana are increasingly being used as they have higher-capacity and speed features. Running a game on a blockchain's distributed ledger not only enables player ownership but it also ensures that all transactions are transparent, fair and open.
Non-fungible Tokens (NFTs)
In P2E games, NFTs are used to represent assets and enable transactions in the marketplace. In- game NFTs can be exchanged for other NFTs, cryptocurrency of fiat money. Unlike traditional online games, P2E NFTs ensure that all in-game assets are unique and that they cannot be duplicated or fake in any way. A great number of P2E games are focused on encouraging players to pass through different game levels while monetizing virtual land and improving their digital characters (or avatars).
Play-to-Earn Model
In contrast to play-to-win games where players have to pay their way into and through gameplay, GameFi will reward you for just playing. As you keep progressing, you'll amass digital collectibles, in the form of NFTs, and cryptocurrency. In return, players usually have to complete tasks, including winning battles and daily quests. These assets hold value and can be traded and exchanged in the marketplace.
DeFi Components
Many GameFi projects also integrate decentralized finance (DeFi) elements. Some of the top GameFi games will let players generate passive income through staking tokens, while others might let you earn in-game rewards in return for locking your in-game assets and cryptocurrency in smart contracts as part of a yield farming feature.
When it comes to GameFi, Axie Infinity stands as one of the most successful games available and the title that helped pave the way for others in the industry.
Launched in 2018, Axie is a monster-battling blockchain game through which users purchase NFTs of cute digital creatures that can be pitted against others in battles and challenges in return for the native token AXS. Axies can be traded on the marketplace for real money - and the value of these monsters has gone as high as $1.5 million. Adding to that, virtual land in this game has also attracted widespread attention, with a land sale last year reaching $2.3 million.
By collecting, raising, breeding and battling Axies, players can increase their chances of getting more rewards. AXS tokens can also be staked to earn interest. Given that the majority of blockchain games have little to no entry fees, becoming a dedicated player can turn out to be extremely rewarding.
A recent report released by Binance has highlighted GameFi as one of the major reasons why more game developers are embracing blockchain technology, citing the example of companies like Ubisoft, EA (Electronic Arts) and Tencent who've recently entered the blockchain gaming space. The report also shows that despite a downturn in the crypto market, the number of GameFi projects has continued to rise, reaching 1,551 games as of June 2022.
Benefits of GameFi
The cryptocurrency world is buzzing about GameFi, no doubt thanks to the many advantages brought by this new model. While you might already feel convinced, here are a few more benefits of GameFi to consider:
Earn by Playing
Let's face it - doing what you enjoy the most and getting paid for it is a winning combo. And even more so in gaming. After all, the average gamer spends on average 8 hours and 27 minutes per week playing, so that's a lot of time that could be easily monetized with GameFi. The world of video games has long been dominated by the "play-to-play" model, meaning that players have traditionally been forced to pay with real money for in-game items, including avatars, accessories and upgrades.
However, this system is a one-way street since only developers make money in the gaming ecosystem, shutting out players and offering no opportunity for shared profits.
With GameFi, players no longer have to be taken advantage of as money-making becomes accessible to everyone.
Financial inclusion is then a major advantage of the GameFi model.
Asset Ownership
The integration of non-fungible tokens enables ownership of in-game digital assets. In reality, what this means is that unlike legacy games, game developers aren't the sole authority having a say over gameplay and the scope of the assets within it. Once the legitimate owner of an NFT, you can rest assured that it's you who gets to decide what to do with it, inside and outside the game. Another benefit from integrating NFTs into gaming is that, even if the game fails or the developers make modifications to a game, your assets won't be worthless as you'll be able to move them elsewhere.
Compelling Gaming Incentives
Under the GameFi model, the emergence of the first PE2 titles marked a major transformation in the industry, putting the traditional gaming revenue model into question. As we explained earlier, up until recently it was impossible for players to transfer and use their in-game assets outside the ecosystem of a particular game. Blockchain gaming upends that structure by enabling virtual tokens to be used across different environments and exchanged for cryptocurrency or fiat money.
Participation At a Low Cost
Gaming has historically required that players pay a number of fees, from purchasing the actual game to paying for upgrades. By comparison, the vast majority of titles in GameFi are entirely free to play, making it an accessible activity for more people. On the other hand, P2E games offer compelling rewards that keep playing costs close to zero.
Taking Control Over Gaming Experience
We've spoken about how NFTs help establish asset ownership, authenticity and control over in-game items. And while that is an undisputed upside of GameFi, this model ultimately translates into an improved experience across the board thanks to enabling players to take control over their entire gaming experience. That is particularly true in P2E games that offer governance tokens, allowing holders to have a direct say in product-related decisions and the future direction of the game.
How To Get Started With GameFi Games
As GameFi keeps flourishing, hundreds of new titles are emerging every month. We can expect every game to have its own mechanics requirements and gameplay. However, to get started with GameFi, there are typically a few common steps you'll have to follow such as purchasing cryptocurrency and a crypto wallet to store and manage in-game assets.
Here is how it normally works:
1. Set up a crypto wallet
Before you try your first GameFi game, you'll likely be asked to get yourself a crypto wallet, such as MetaMask or Trust Wallet. Feel free to explore our latest guide to the top NFT wallets available in 2022. However, one aspect to keep in mind is that your wallet must be supported by the blockchain in which the game is running, such as Ethereum and Binance Smart Chain. Depending on the game, you might also be required to use more than one wallet and blockchain network. We recommend that you check the game's official website to make sure you have all these details worked out.
2. Connect your wallet to the game
Before you start playing a blockchain game you need to connect your wallet to the actual game. This should be a fairly simple step, especially if you use an intuitive wallet such as MetaMask, helping you store and manage your game tokens and interact with different blockchain applications.
3. Check the game requirements
In order to make the best out of your experience and maximize your earnings, it's always best to get familiar with the ins and outs of a P2E game. For example, Axie Infinity will ask you to purchase three Axies before starting to play while other projects might have other prerequisites like the types of wallets they accept or cryptocurrency you can use across the network.
Top GameFi Games
Now that you know how to get started with GameFi, perhaps you're interested in knowing what are the best blockchain games you can give a go today. We're previously put together a list with 11 top options, but here's a quick recap: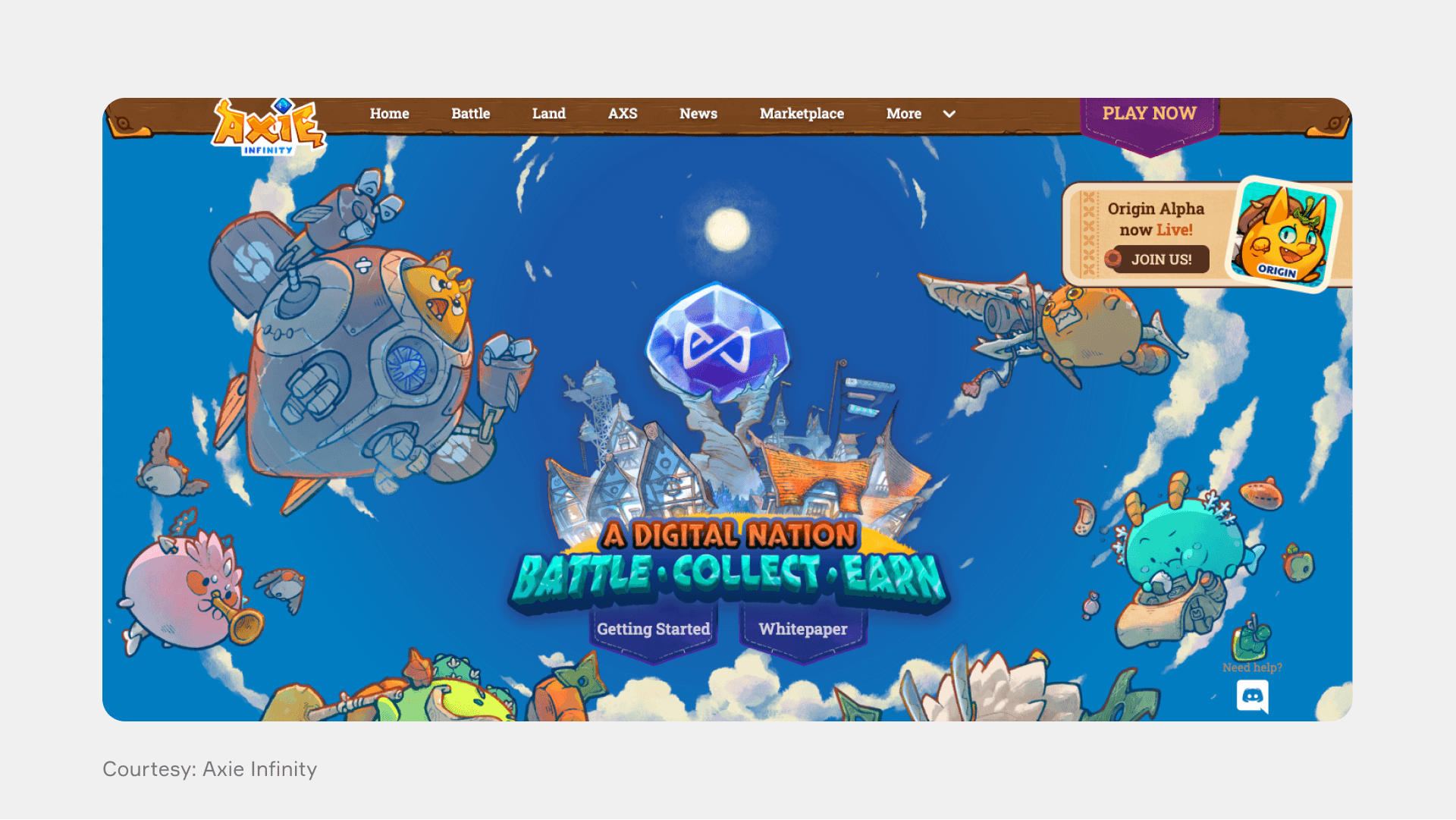 Axie Infinity stands as the most popular P2E game and there's very good reason for it. This game is easy to play and extremely appealing. All you have to do is breed and collect cute digital creatures - Axies - and battle other users. Players earn rewards for winning battles and trading their precious creatures. Breeding rare Axies can earn players thousands of dollars. SLP AND AXS are two tokens powering the Axie Infinity economy.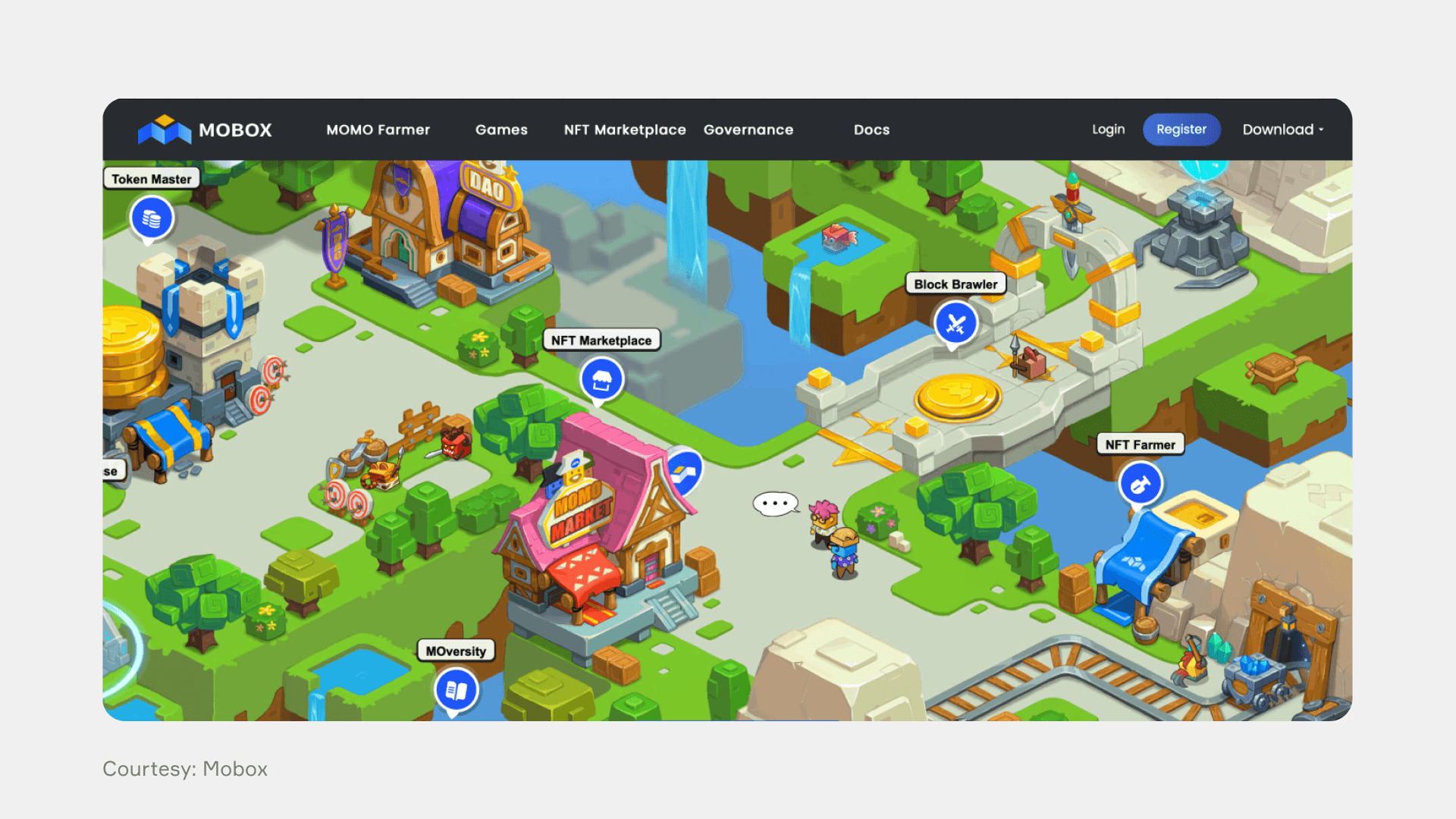 Mobox is a P2E platform that gathers several NFT-based games, including Trade Action, OMO Farmer, and Token Master. Moreover, MOBOX is a community-driven GameFi platform dedicated to empowering users by rewarding them for their engagement and enjoyment. This particular title was developed on Binance Smart Chain and combines yield farming in DeFi with gaming NFTs to create a true free-to-play, play-to-earn gaming model.
CryptoBlades is an NFT Crafting game on Binance Smart Chain where players can create NFT-based characters and weapons to earn $SKILL tokens. These tokens can be easily bought, sold and exchanged. The game revolves around the acquisition of legendary Blades and the powerful Heroes who wield them. In order to progress through the game, users can mint new weapons and characters.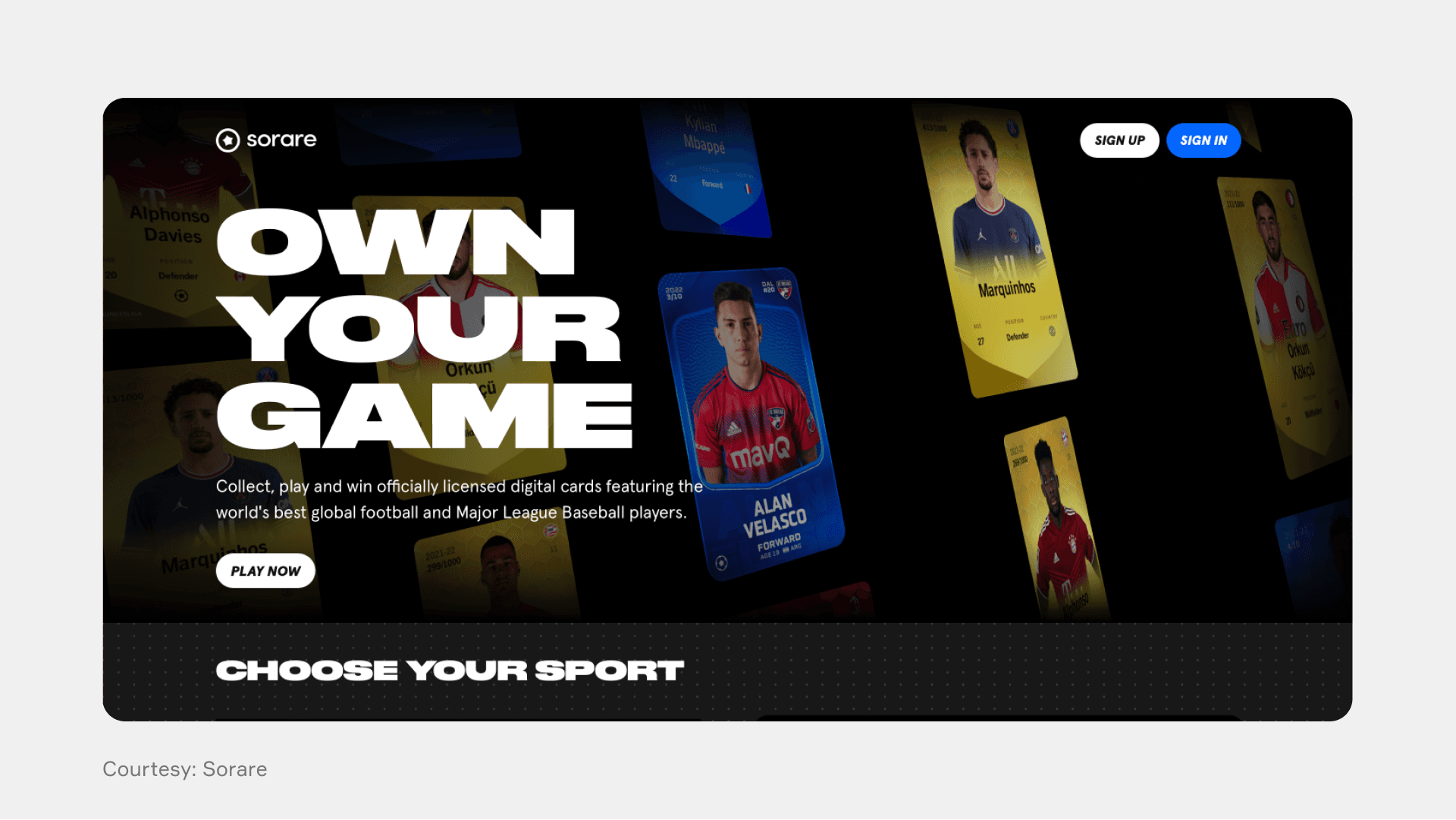 Sorare is a fantasy soccer game where players can trade officially licensed player cards. You're able to scout your favorite players, collect them, manage a team and compete in virtual tournaments and earn prizes every week.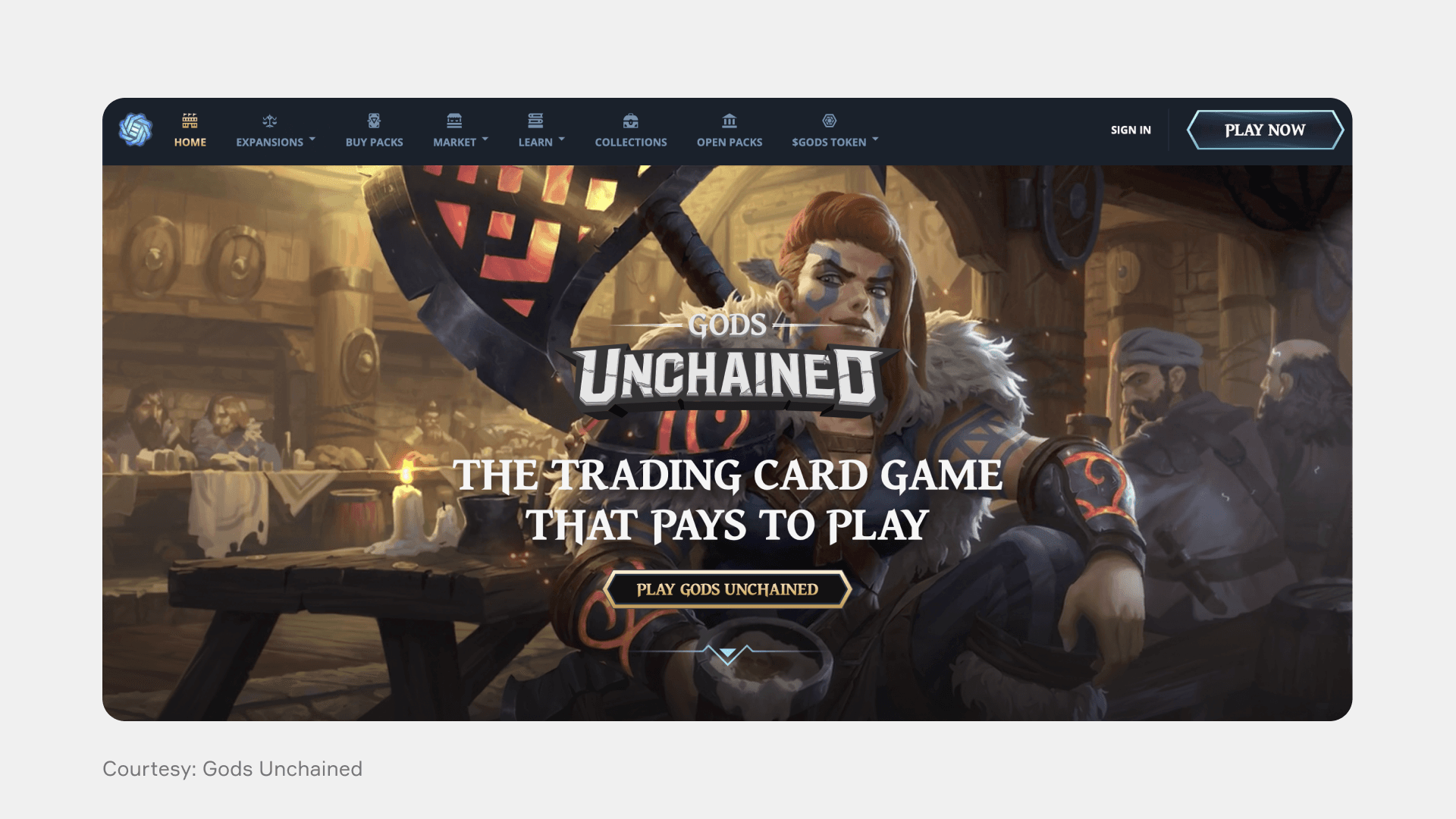 Gods Unchained is a strategy trading card game built on the Ethereum blockchain. Users build decks and play cards to fight and defeat opponents. As a blockchain-based game, players are able to completely own the cards they win and sell or trade them at will. Like physical collectible card games, some cards are incredibly rare and can be valued in the hundreds of thousands of dollars.
Splinterlands is another popular collectible card game that is reminiscent of Pokémon, Yugi-oh and Magic. In this P2E game, players engage in battles and try to defeat other monsters in return for rewards in the form of the native DEC (Dark Energy Crystal) token. Rare cards have been released during recent updates, making the game an even more appealing prospect for players.
Why Should You Be Paying Attention To GameFi
Bringing together the best out of gaming, decentralized finance and blockchain-powered features such as NFTs and cryptocurrencies, GameFi is taking gaming into a new era. We have mentioned the early success of play-to-earn games like Axie Infinity, which reward players for their achievements with in-game NFT assets. However, as other themes like the metaverse and Web 3.0 continue to play out, we can expect GameFi to see an ever broader adoption across audiences, platforms and use cases.