Since 2021, digital collectibles have been catapulted to the forefront of the crypto space. It is undeniable that profile picture NFTs (PFP NFTs) have spearheaded this move.
Indeed, PFPs can take a lot of credit for the success of the broader NFT market as most projects that have seen mainstream adoption are profile picture NFT collections. You've probably come across several such NFTs as public figures and NFT enthusiasts in general often use PFPs as profile pictures on their social media accounts.
Twitter is a hot spot for these tiny NFT profile pictures, especially collectibles from Yuga Labs' Bored Ape Yacht Club (BAYC). This is one of the crypto community's most popular PFP NFT collections.
Other NFT projects that function as social media profile pictures are CryptoPunks, Meebits, Doodles, and Cool Cats. Here's a beginner's guide to the world of profile picture NFT collections starting with;
What are PFP NFTs?
Let's break down the entire term. PFP (profile picture) is a popular social media acronym. NFTs on the other hand are non-fungible tokens, assets that exist mostly on the Ethereum blockchain with a unique, digital identity.
Generally tagged PFPs, profile picture NFTs are digital collectibles, often static, 2-dimensional images that were created to be displayed on social media profiles. Notably, however, as blockchain technology continues to evolve, one new trend after the next emerges with ties to NFT projects. Developers have created full-body profile picture NFTs and even animated PFP projects.
The majority of these assets are generative artworks. Computers create these pieces usually through a generative algorithm, although hand-drawn PFP NFT collections are also quite common.
Generative PFP projects often comprise thousands of NFTs, usually up to 10,000. PFPs generally feature a character which could be a myriad of things, an ape, a robot, an alien, or a person. These profile picture characters are often shoulder-length or neck-length figures with a variety of traits that differ from piece to piece.
Among these traits are background color, accessories, hair or fur color, or even changes in the character's expression all of which help make each piece unique. PFP NFTs typically have rarity rankings which depend on the traits each token has, and the rarity of a PFP NFT usually drives up its value.
A Brief History of PFP NFTs
PFPs were some of the first non-fungible tokens in the NFT space and the CryptoPunks project debuted the concept of NFTs as digital avatars. As the first PFP NFT, CryptoPunks played a major role in the expansion of the NFT market.
While NFTs may seem like a relatively new trend, founder duo Matt Hall and John Watkinson launched their NFT project in 2017 under their product studio Larva Labs. They were able to create thousands of pixel art images of stylized humanoid figures dubbed punks. The duo initially believed they had uncovered a new entry into smartphone apps or games. However, Hall and Watkinson's release revolutionized the digital art industry, and also redefined the idea of ownership.
Larva Labs introduced some of the initial prototypes of non-fungible tokens as a way to represent ownership of the Punks. Hall and Watkinson began with slightly altered renditions of the ERC-20 tokens on the Ethereum blockchain. This opened the door for a specialized digital coin, the ERC-721 token standard was created specifically for non-fungible tokens.
Soon after the launch, NFT collectors began using their CryptoPunks characters as profile pictures on Discord and Twitter. It took a while before the Punks saw mainstream adoption. NFT profile pictures began experiencing massive popularity as celebrities and other members of the NFT community came on board.
The massive popularity the Crypto Punks experienced ultimately paved the way for many PFP projects (including the popular bored apes) to emerge.
How do PFP NFTs Work?
For both avid NFT collectors and persons new to the NFT space, it is pretty easy to obtain a PFP NFT. Users can either mint tokens directly from the project website or buy a PFP NFT on a secondary marketplace. Post-purchase NFT owners can view their PFP NFTs through a compatible crypto wallet.
Following this, like many others in the NFT community, they can display their newly acquired PFP NFTs on their profiles. Twitter, Instagram, and other social media platforms support the use of NFTs as profile pictures.
How to Use PFP NFTs
Of course, there's the basic functionality for a PFP NFT, which is a role as a profile picture (PFP). A core aspect of the NFT space and broader crypto community is prestige. Digital collectibles thrive on rarity and exclusivity and PFPs allow NFT owners to showcase their assets. However, some PFP NFT projects allow NFT collectors to gain access to a wider range of utility.
Artists walk a fine line when introducing utility to their projects as creative art monetization is a key driver for NFTs. Most artists and developers prefer not to sign away the intellectual property rights (IP rights) to their works, however, there is the need for substantial utility behind PFPs.
Features like community orientation encourage the popularity of an NFT project. With most projects, NFT owners get to be part of a community where beyond using their PFP NFTs as profile pictures they can vote and make important decisions. A strong community can also mean the chance to network.
Some PFP projects offer users metaverse utility. The metaverse, that is the idea of a virtual world grew into popularity alongside NFTs. Virtual worlds contributed to the avatar craze as a PFP NFT could double as an avatar in a digital world.
Also, a collection such as BAYC provides exclusive access to personalized utility, a feature that extends to its sequel project mutant ape yacht club. PFPs may also allow owners to enjoy perks that exist in the real world.
PFP NFTs vs Other NFTs: What's the difference?
NFT profile pictures distinguish themselves from other NFT projects in one way. For a PFP project, the central feature is the avatar that makes up the piece. Other tokens in the NFT market could feature other forms of art.
Also, generative art is mostly a trend with PFP NFT projects. A lot of other NFTs are often one-offs.
Popular PFP NFT Projects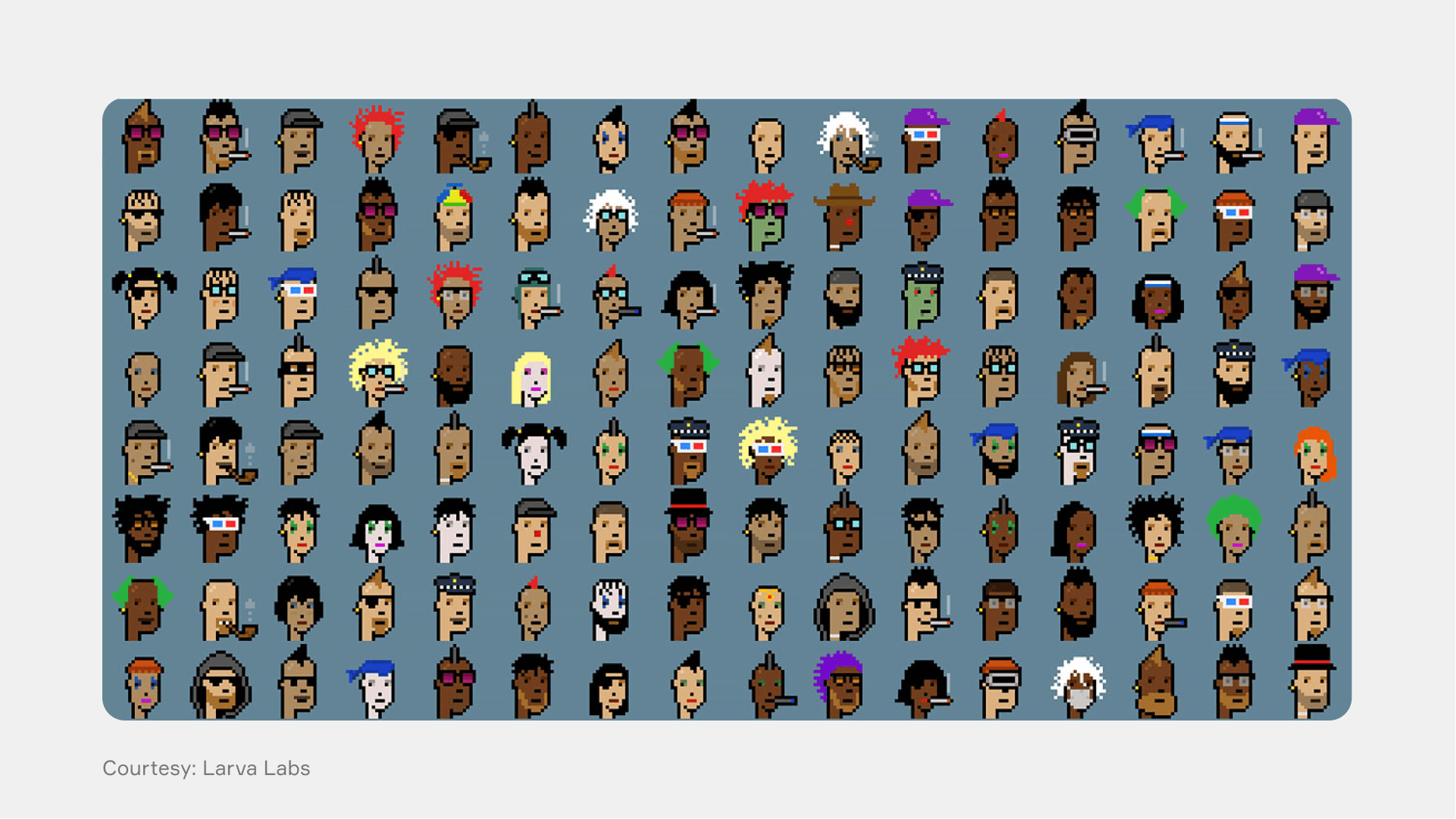 As stated earlier, CryptoPunks was the PFP collection that created the avatar craze. What's interesting is that the Punks began as an experiment. Larva Labs' founders Matt Hall and John Watkinson developed a software program they used to create thousands of unique, eccentric characters they called the CryptoPunks. The pixelated characters in this project hold varying features, each CryptoPunk NFT seems to have a stylized persona that new owners can enjoy.
Hall and Watkinson took inspiration from the 1970s London punk scene for the 10,000 avatars featuring humans, apes, zombies, and aliens with varying degrees of rarity. At writing, 9998 punk NFTs have been minted, by 3621 unique owners. The project has a total market cap of over $860M given its continued relevance in the NFT industry.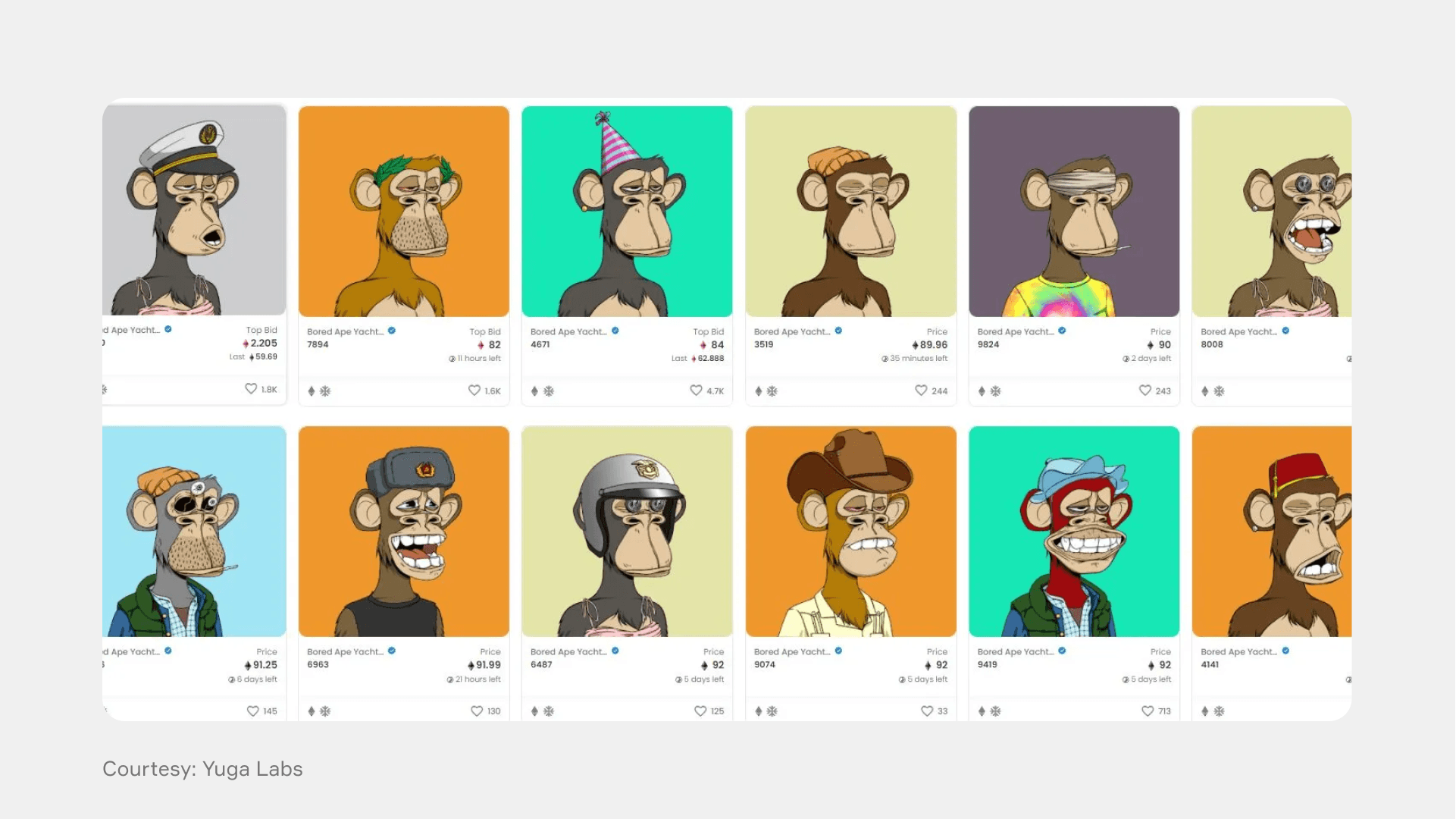 Yuga Labs' Bored Ape Yacht Club (BAYC) falls right behind the crypto punks in terms of popularity. The PFP collection features 10,000 NFT apes with distinctive traits. The Bored Apes went live in 2021 and skyrocketed to the top of the NFT market as they sold out only a few days after their April launch.
BAYC NFTs redefine the idea of prestige as owners gain perks such as an exclusive members-only area, limited edition merch, and even access to real-world events. They also get free drops from Bored Ape spinoffs Bored Ape Kennel Club and Mutant Ape Yacht Club. However, the biggest benefit is that holders get full commercial rights and can monetize their tokens.
BAYC is popular among celebrities featuring collectors like SNL's Jimmy Fallon and global popstar Justin Bieber who have spent millions of dollars to lay hold of one.
The Cool Cats NFT project is an Ethereum-based collection featuring 9,999 randomly generated NFTs. A blue cartoonish cat is the main focus of this project, however, the collection features over 300,000 trait options.
Each Cool Cat NFT is worth between 3 and 10 points, depending on the uniqueness of each item it has. The Cats are utility packed as beyond being PFPs their points may give community members an edge during contests and raffles. Additionally, the team behind the project is looking to introduce a breeding feature with the second generation of these PFPs. This addition will give holders the unique opportunity to generate new NFTs with traits from parent NFTs.
Cool Cats is also set to be part of a gamified ecosystem dubbed Cooltopia. The founders are gunning for greater interaction, function, community rewards, and brand collaborations among improvements.
###Doodles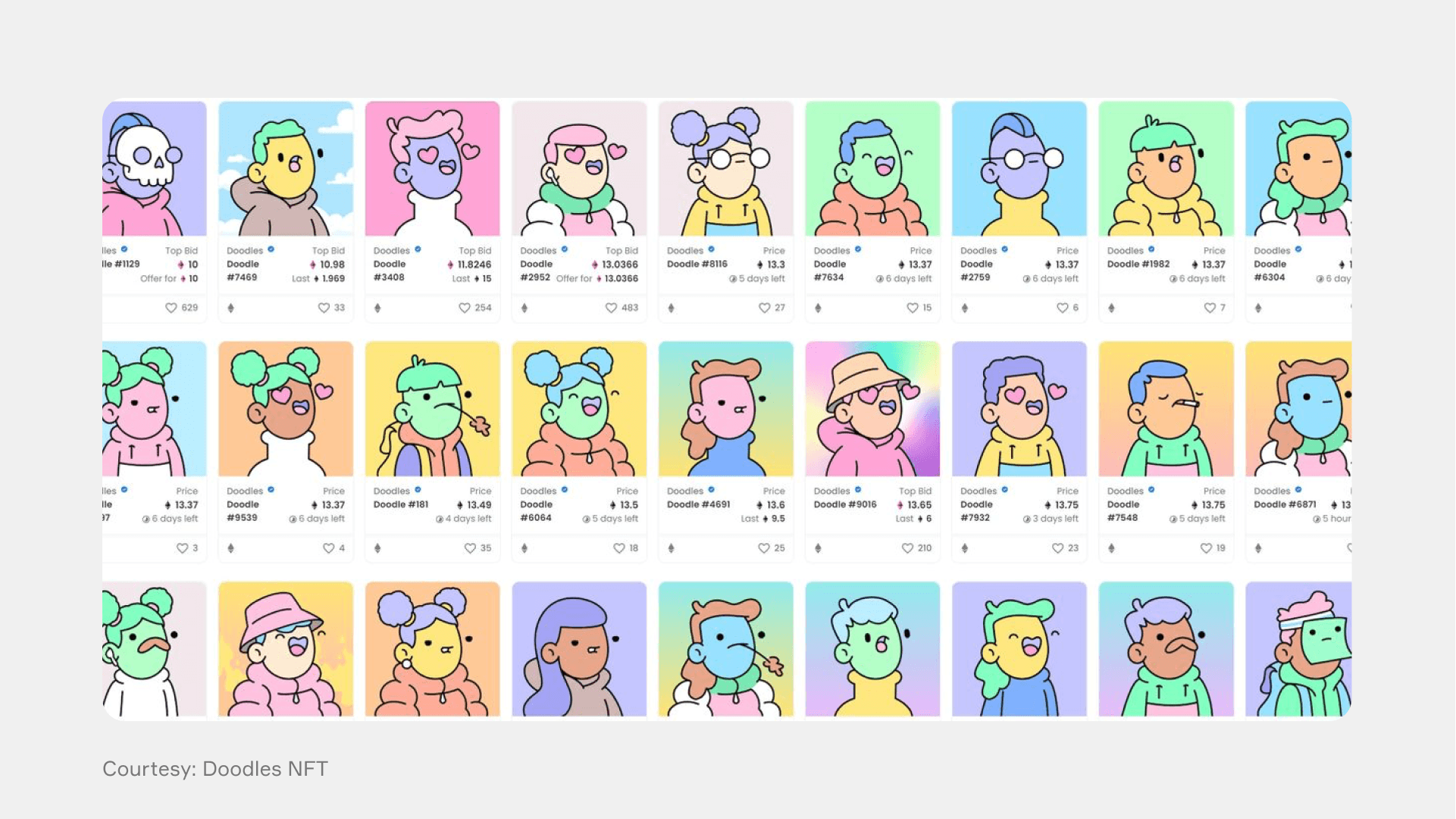 Doodles is a collection of 10,000 colorful, hand-drawn PFP NFTs. The project uses line art in its pastel images of playful human characters as well as non-human figures such as pickles, cats, skeletons, aliens, and apes.
The project was created in 2021 by trio Evan Keast, Scott Martin, and Jordan Castro aka Tulip, Burnt Toast, and Poopie with Martin (Burnt Toast) designing the unique features for the NFTs in the collection. Notably, the founders had already made a name for themselves in the crypto space with the launch of CryptoKitties NFTs.
Doodles is one of the most popular projects around as a big part of the collection and its community is fun. The original Doodles project has since sold out; however, sequels have continued to emerge.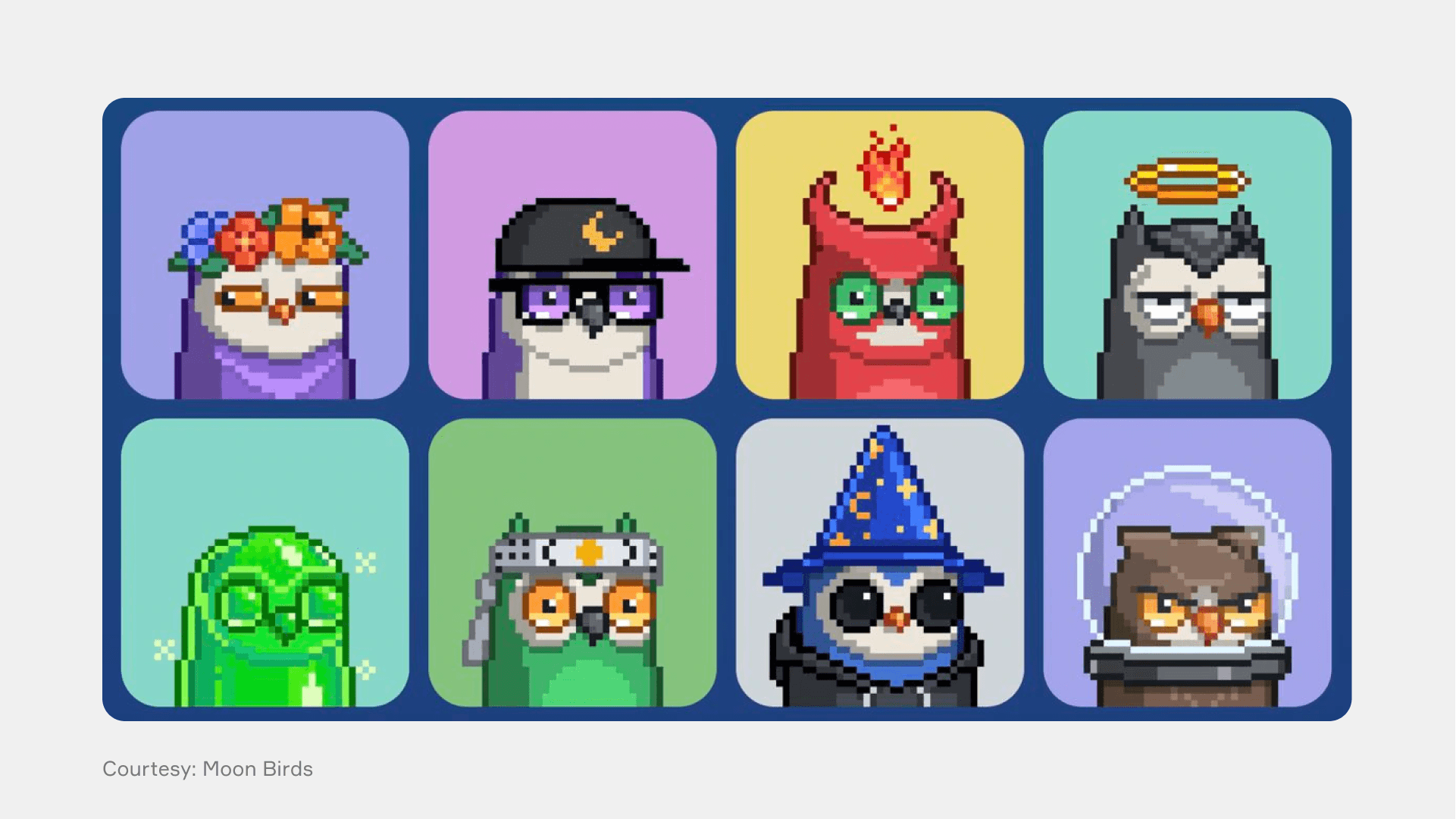 Moonbirds is a somewhat new NFT PFP collection. On track to be another blue-chip release like BAYC, Moonbird provides holders with a ton of perks. Tokens from the collection function as an access card to a private members club.
The Moonbirds collection also has a unique feature called nesting. It allows each token to accrue more rewards the longer the buyer holds on to it.
Final Thoughts
PFP NFTs are a major trend at the moment, but will this hold out even in the future? Some believe they are just a fad. Indeed, speculations are that as virtual worlds and more utility tokens show up, PFP NFTs will eventually become obsolete.
As shown by the projects listed above, however, above PFPs do have the ability to evolve. Hundreds of new collections continue to flood the market, keeping up the culturally iconic trend but also debuting new features.