The metaverse is quickly becoming the next digital frontier that everyone will want to conquer. The concept exploded last year when Facebook rebranded itself as Meta and announced that it would be pouring in billions into metaverse-related projects. This prompted other tech companies and brands to follow suit and start having a presence in virtual worlds. And while a full-fledged version of technology might still be a decade or so away, businesses can start entering metaverse-like platforms today, where they can set up virtual stores, advertise and sell their products or services. One of the greatest advantages of the metaverse is how it is leveling the playing field for brands and businesses, allowing everyone to have an equal chance at tapping into the broad opportunities brought on by this technology. And it goes beyond consuming-facing companies. Brands of all kinds, from small businesses to larger companies, can dip their toes into a virtual world and reap the benefits of having a presence there. If you're looking to start your transition and move your business into the metaverse, here are a few steps you might want to follow.
How To Move Your Business Into The Metaverse
1. Find The Right Metaverse
There are currently many platforms that can be considered a version of the metaverse. These digital worlds include different areas of focus like gaming, real estate or NFTs. Some of the most popular platforms include Roblox, which currently has some 47 million daily active users. With a focus on younger audiences, Roblox allows users to engage in a variety of games and entertainment offerings like music concerts. This is a model that has also made Fornite extremely successful, attracting millions to performances of the likes of Travis Scott, Ariana Grande and Marshmello. Fortnite has become a cultural phenomenon with an extremely large and dedicated audience, with the average user spending some 6 to 10 hours per week on the platform.
Brands have started seizing on the moment and collaborating with Fortnite on content marketing, PR campaigns and sponsored metaverse events. Companies from luxury fashion houses like Gucci, Valentino and Balenciaga have started taking their first steps in the metaverse and others Nike and Adidas have opened virtual stores where users can buy NFTs of real-life sneakers and sportswear. If you're looking to target younger audiences using platforms like Roblox or Fornite there are several aspects to keep in mind, namely if your brand is innovative, culturally relevant and aligned with the needs of these communities. It's equally important to focus on entertainment, authenticity, and creativity as core selling points.
This is, of course, a strategy that still makes sense across metaverses targeted at slightly more mature audiences like Decentraland. This virtual world focuses less on gaming and more on creating digital infrastructures, powered by Ethereum blockchain technology, that are entirely owned by its users and where they can engage in real-life activities like buying virtual land, organizing events and creating (virtual) objects. Such has been the hype, that plots of land there have sold for millions of dollars and a quick tour around Decentraland will show you the sheer amount of high profile brands already with a presence there, including Samsung, Sotheby's, Atari, and many more. We recommend you do a thorough research of the top metaverses and have a deep understanding of the audiences they attract, the products or services that are most needed there and how your business can fit into a virtual world.
2. Strengthen your online presence
The vast majority of businesses already have an e-commerce presence of some sort, be that through their website, social media channels or product selling platforms. Before you step into the metaverse, it's worth reevaluating your current online presence and branding strategies. You might even consider a virtual makeover to better fit the tech and social demands of the metaverse. You'll probably think of opening a virtual store or marketplace, so we recommend we take a look at what others are already doing in the metaverse.
Your business will need adapting when it comes to advertising too, for example. A campaign can be as creative and innovative as you wish since the laws of physics don't apply in the metaverse. That was surely the approach of Gucci when it collaborated with Roblox for an installation that kept some elements of real-life Gucci campaigns while embracing the fact that the virtual world has no limitations, so rooms had no ceilings and users could walk around truly fantastical settings.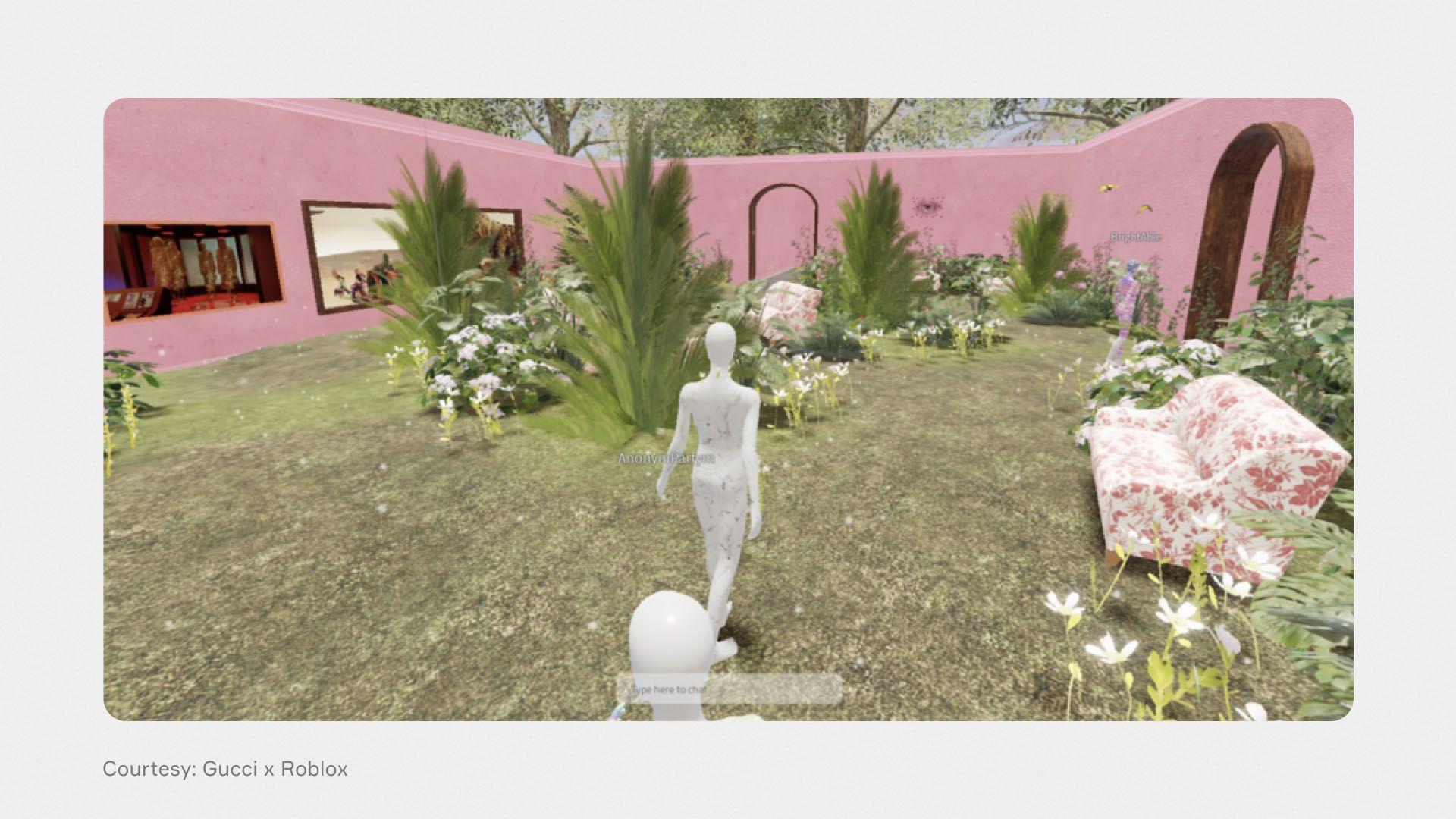 You might also want to develop collectible versions of your products in the form of non-fungible tokens (NFTs), for example. Or attach them to physical products that your customers might be able to redeem in real-life. That's the model followed by many brands who've opted to invest in physical NFT offerings. You can read our earlier post on the subject. In order to think of your monetization model and goals, you'll also have to make sure that you're familiar with cryptocurrency and security protocols.
Metaverses rely on digital currencies to enable all transactions within a platform. Sensorium Galaxy, for example, makes use of SENSO as the currency that powers all possibilities users can take advantage of, from creating new avatars to purchasing tickets or creating original content they can easily sell or exchange through our marketplace.
3. Develop AR/VR apps
Upscaling your businesses could mean that you'll need to develop or at least consider using augmented and virtual reality tools . Since the metaverse sits at the crossing point between VR, AR and AI, these are technologies you better get a grasp of before moving your business into a virtual world. According to Bain & Company, 75 percent of business leaders say they plan on deploying AR/VR by 2023 and this tech segment is also projected to grow significantly between 2021-2015.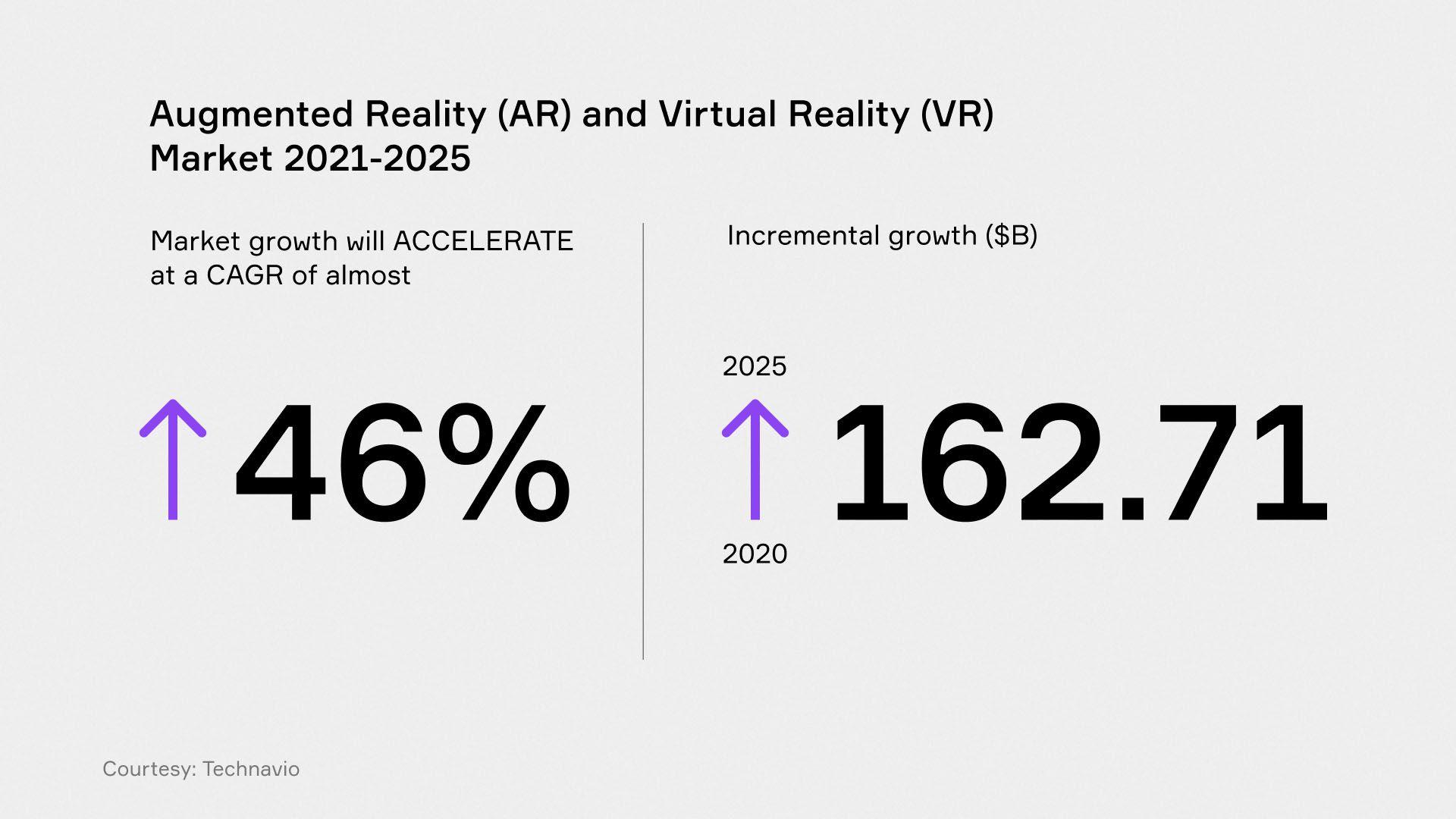 Interactions in the metaverse are the result of an evolution in social networking and interactivity, and consumers will look for businesses who can understand that. If you want to adapt to this new reality, developing an AR or VR application through which your customers could start getting used to features of the metaverse is a good choice. Start experimenting with VR headsets and other supporting technology to jump start your metaverse experience and have a feel for what moving your business to the metaverse could look like. Even before entering a virtual world, you can start now expanding your presence and helping your customer use the opportunity to contact with your business in more meaningful and interactive ways, regardless of your physical location. A number of brands have experimented with AR features. Spanish retailer Zara, for example, held a hugely successful campaign allowing customers with the ZARA AR app to hold their phone to store windows or sensors within physical stores and see models wearing the brand's items come to life on their screens and allowing users to click through and make purchases directly. The idea was adopted by others of the likes of Chanel, Farfetch and Gucci.
4. Focus on your target audience
A target audience varies from company to company. All businesses have particular needs and different audiences they're looking to reach. Focusing on the group of customers you're catering will also affect the ways in which your product or services are advertised and sold. Having a product that is optimized for the metaverse is great, but it might not be enough when it comes to moving your business there. A good starting point is doing a proper market research and having a closer look at aspects like the age demographics and the top experiences preferred in some of the top metaverse-like platforms.
Roblox: As of the end of 2021, this platform had 50 million daily active users, with the fastest-growing demographic being the 17-to-24-year-olds. This audience values constant new content updates and complex experiences featuring visuals and effects, which helps explain the popularity of Roblox top events held in 2021, including Gucci Garden, Twenty One Pilots Concert Experience, KSI Launch Party and the Roblox Fashion Awards 2021. It's also important to note that the Roblox community is known for its creativity and last year alone, some 25 million-plus virtual items were created on the platform and 5.8 billion virtual items were acquired.
Decentrand: As one of the most exciting and fastest growing metaverses, Decentraland saw its user base growing by as much as 3,300% and the price of its in-platform currency MANA spiked some 4,100% in 2021 alone, underscoring the vast interest this metaverse has been getting. While mostly focused on enabling users to claim ownership of virtual land on a blockchain-based ledger of parcels, Decentraland is also a hub for events, advertising and user-created content, making it the perfect destination for brands. As it also attracts a diverse crowd, this metaverse has an enormous potential no matter the type of business you're running.
Axie Infinity: There's no talk of the metaverse and technology like NFTs without mentioning Axie. This game and metaverse-like platform has reached cult status, especially among those aged between 19-29 years old, with most of the players of Axie being from Asia. Most users will spend on average up to two hour per day on the platform. Although mostly focused on gaming, Axie frequently promotes marketing and partnership opportunities through its developer Sky Mavis.
The Sandbox: This NFT game has a loyal demographic and a thriving marketplace that saw over 100 artists sell user-created NFTs for 2.2 million $SAND in 2021. It also has over 165 brand, IP and artist partners including Snoop Dogg, DeadMau5, Avenged Sevenfold, The Walking Dead, and the Smurfs, reaching an audience of over one billion fans. The Sandbox's target audience can generally be divided into creators and players, each drawing a different range of demographics, from youngsters who enjoy connecting with others on the platform and are challenged by gameplay to the adults who prefer investing in world-building activities.
Finding where your target audience might be in the metaverse is an important step for any business aiming to be successful in a virtual format, but would also recommend that you not forget about additional steps like creating a truly innovative and attention-grabbing metaverse store (you might need the help of a metaverse developer for this), assembling a great customer support team and focusing on advertising that is optimized for meta platforms and channels. All of this will help you transform your business into a brand that can have higher chances of resonating with some of the present and future users of the metaverse.
5. Stay adaptable
Until metaverse takes up a more definitive form, there are no right or wrong decisions that can be made. Doing business in the metaverse is very much a trial and error process, which means that your business must remain adaptable to the changing nature of virtual worlds. But this can be the perfect opportunity to have some fun, too. Instead of being in charge of the whole creative process, you could simply opt to concrete and test your product virtually with the help of the metaverse's community.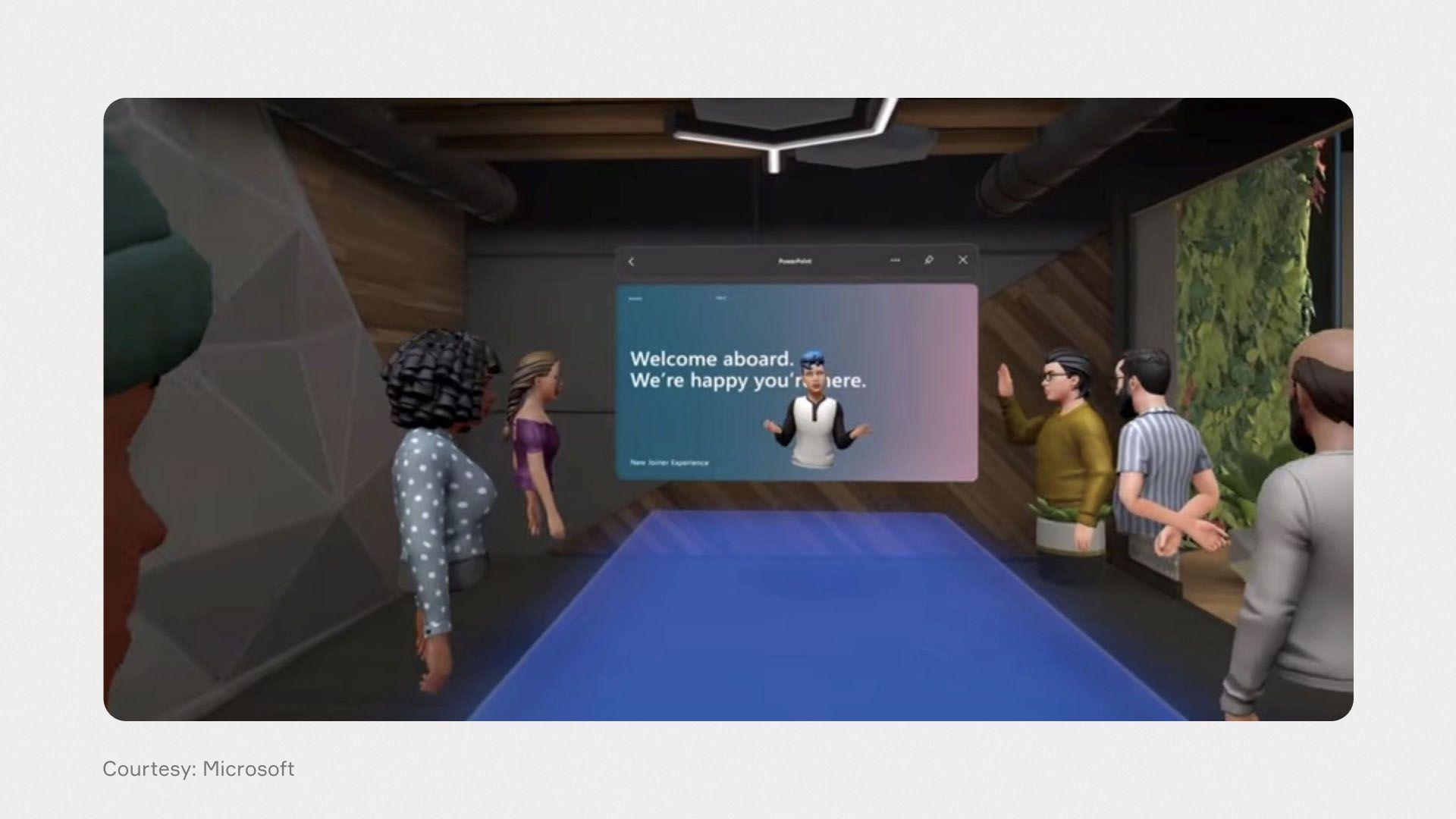 This will not only help you get a feel for what consumers might be looking for, but might also put you on a path to predict future trends and innovations. Shared virtual experiences are a core component of the meters and potential customers are sure to appreciate collaborating with your brand instead of being treated as mere consumers. Embrace the opportunity of expanding in ways you never thought possible before and start preparing to move your business into the metaverse today.
Bottom Line
Nowadays, making a technological investment in your business means adopting tools like virtual and augmented reality. And while some might appear to still be in their infancy, the earlier you start the better you'll position your brand to become successful in new virtual spaces like the metaverse, which are already attracting millions of people across a number of industries and areas of interest. As a trillion dollar opportunity, the metaverse is an incredible business platform that you might not want to miss out on.