Real estate is expensive. That's a tough reality of life that many of us have come to face. But no, we're not talking about London, New York or Paris. Turns out that some of the world's most valuable land isn't even on earth - and on top of that, it isn't even real at all. Enter the metaverse. That's right - investors are now paying millions of dollars in return for land that exists only in 3D virtual worlds. With the race heating up, crypto enthusiasts, tech followers and prospective metaverse users are being drawn in to snap up a piece of digital properties. But what's the buzz all about, really? Today, we are taking a look at what's behind the metaverse land rush and how you can join in.
What Is Metaverse Land?
Typically, a metaverse will divide its space into different areas, including plots of free land, which users can easily purchase and use for a variety of purposes (we will detail those later on). This land is not only purchasable but also programmable, and it's bought, sold or exchanged in the form of non-fungible tokens (NFTs) in exchange for cryptocurrency and even fiat. Spaces are valuable as users can create a number of experiences, play games, socialize, host events, and more. As they are NFTs, the ownership over the land and the digital assets in it can be easily proven. All transactions involving metaverse land are equally public record. Users can normally purchase a plot of metaverse land through the platform's marketplace - or opt for a third party NFT platform such as OpenSea and Rarible.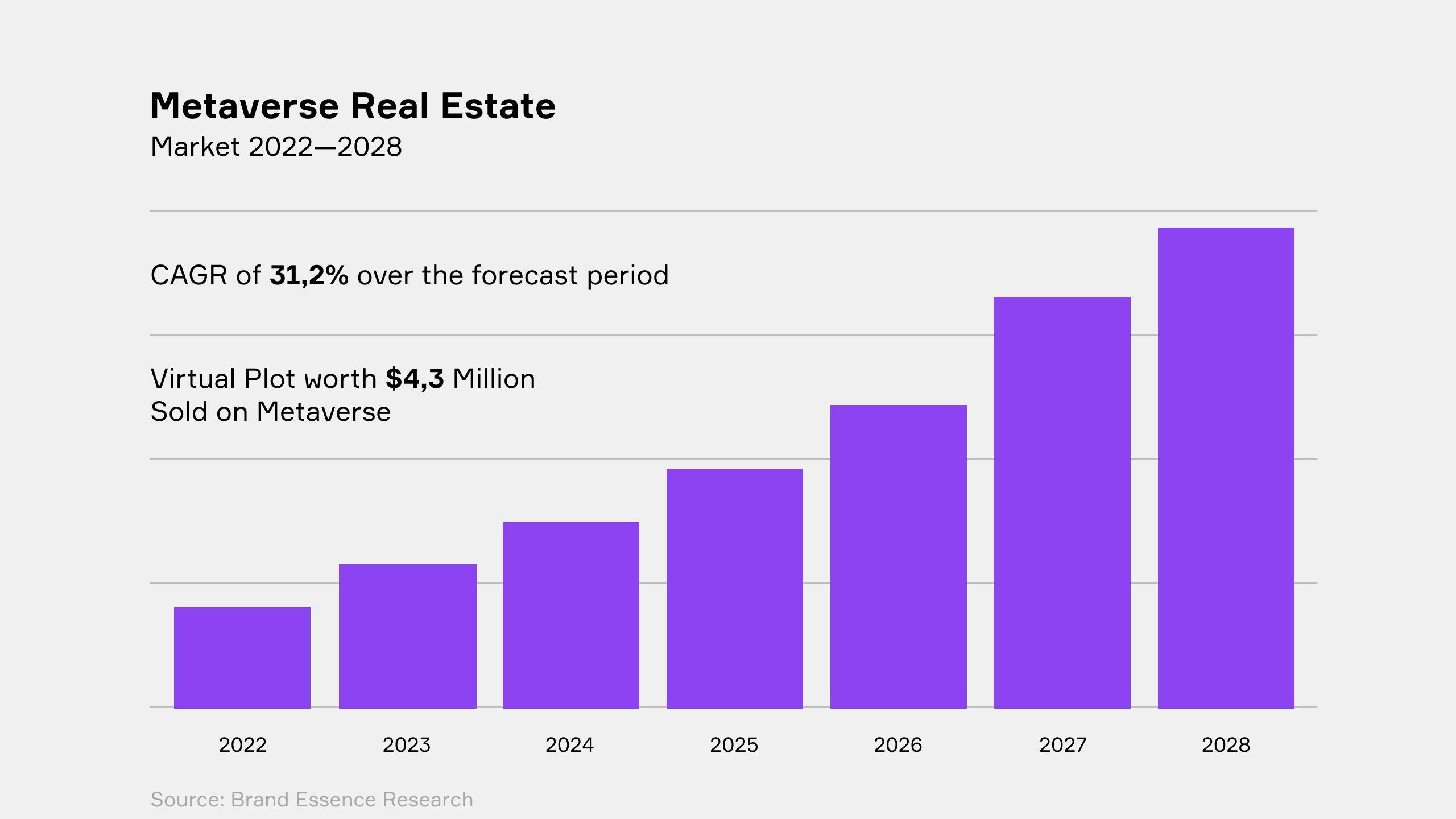 The surge in the popularity of the technology has meant big business. The virtual real estate industry is already pulling in big numbers for developers and sellers - and the market is only getting bigger. Metaverse property prices rose 700% in 2021 and the overall market reached $500 million. As if that wasn't enough, looking ahead, the market is expected to double to US$1 billion in 2022.
What Can You Use Virtual Land For?
With prices of virtual land surging to record highs, many have accused some investors of fueling a speculative NFT market. But it isn't just the price speculation that's driving the hype. For many other users, land in the metaverse represents an opportunity to monetize virtual assets and experiences taking place within it. From renting to managing metaverse land, some of the revenue-producing trends playing out include:
Flipping Land
Users can choose to snap up a plot of virtual land and re-sell it for a markup.
Building infrastructures
Rather than letting a plot of land sit idle, many users are opting to build upon it a wide range of virtual properties, for themselves or that users can also use. That includes digital casinos, clubs, concert venues, NFT galleries, stores, and much more.
Brokering
The popularity of land NFTs has seen the emergence of dedicated real estate brokers who, much like in real life, link sellers to prospective buyers, or simply advise clients on how to best manage their metaverse properties.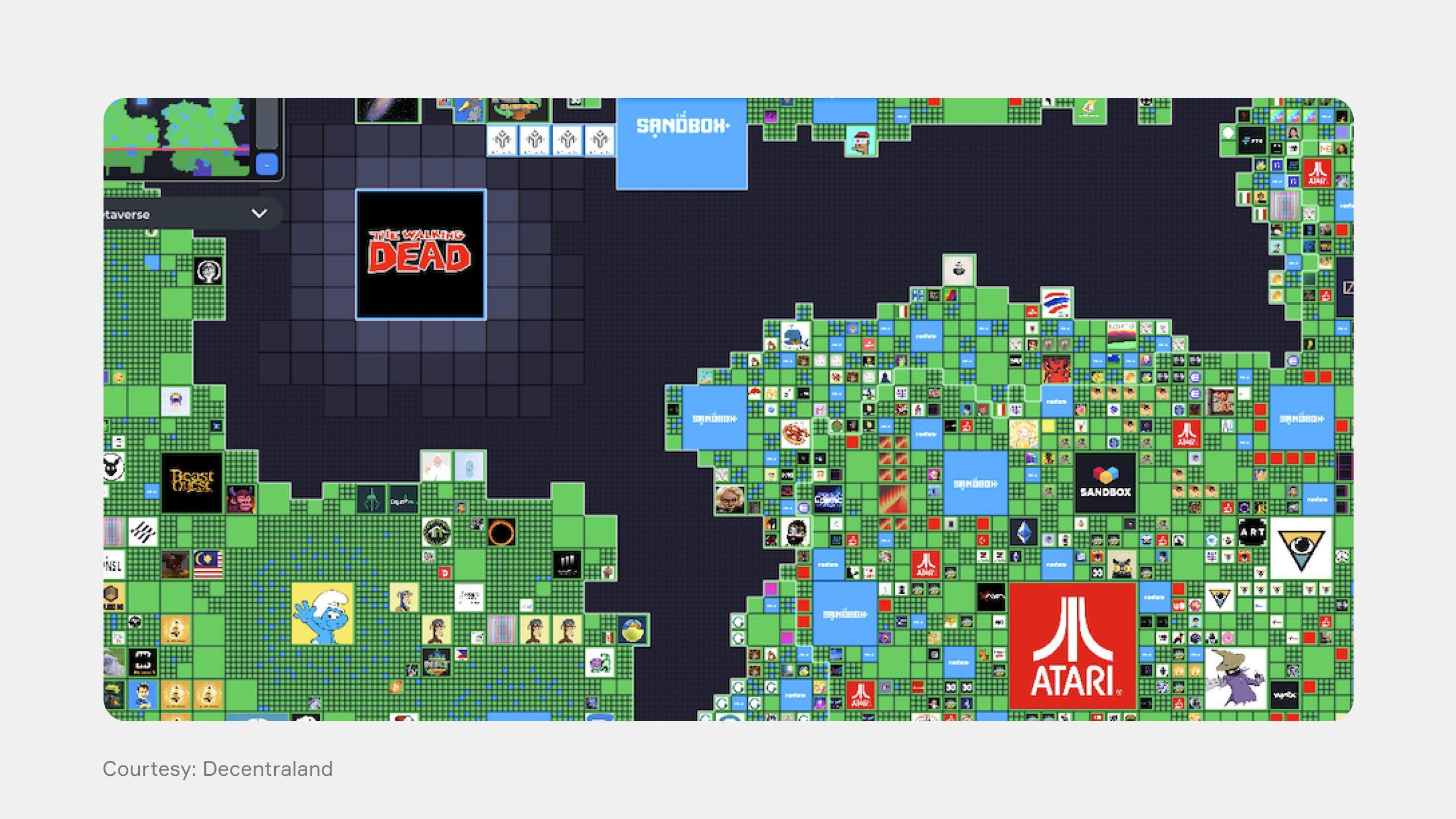 Advertising
Areas of the metaverse with heavy foot traffic are increasingly becoming a valuable spot for advertising purposes. Owners of that land can rent it out and let companies use it to promote their products and services.
Events and services
The metaverse is designed to magnify the experiences we already have online, while helping create new ones. As such, land in the metaverse is being used to host events and run services. Metaverses like the Sandbox also encourage users to create and publish mini-games and educational activities that others in the community can benefit from.
A number of established companies, including PwC, Sotheby's, JP Morgan and HSBC are now resorting the metaverse as a complement to real-life operations, allowing clients to access services and interact with staff almost as they would in the real world. In fact, a raft of financial players have started looking into additional ways of making business in the metaverse by exploring virtual real estate lending, metaverse mortgages, consumer lending and crypto transactions.
How To Buy Virtual Land In The Metaverse
Buying and selling virtual land follows the same principles of NFT sales. Normally, this shouldn't be much of a hassle. To begin with, most metaverse platforms can easily be accessed through a desktop platform, giving interested buyers a snapshot of available land as well as important aspects including location, total area, average prices, utility potential and transaction history.
Once you've selected a piece of land you're interested in purchasing, you might either look at the metaverse's own marketplace or take a look at a secondary NFT platform like OpenSea and Binance NFT. Remember that land in the metaverse is exchanged as NFT and, as such, the deed of ownership is etched on a blockchain. This helps protect owners against frauds and other misfortunes.
Before proceeding with any purchase, make sure you go through the following steps:
1. Open a Digital Crypto Wallet
Most metaverses will require that you have a cryptocurrency in order to make transactions. Naturally, a digital wallet will be necessary to hold your virtual money and the digital assets you own. The wallet you choose will depend on the metaverse platform you're using. For the best possible experience, we suggest you consider a digital wallet that can directly be integrated into your web browser. Some of the top digital wallets include MetaMask and Binance Chain Wallet. However, no matter which crypto wallet you go for, make sure it supports the currency of the virtual project you plan on investing in. Metaverse platforms will normally explain which are preferred and how to link them.
2. Buy Cryptocurrency
As mentioned in the previous step, you will need enough of your metaverse's in-platform currency in order to complete transactions. You can easily buy some of the most popular currencies like $MANA, $SAND and $ETH on exchanges like Binance, Coinbase or KuCoin.
3. Select a Metaverse
Unless you already have a virtual land project in mind, you might want to compare available options before committing. Top platforms like Decentraland and Sandbox sell virtual lands through tokens like MANA and SAND respectively. The area and amount of land will vary from metaverse to metaverse. During this step, you should be able to easily check details like price, total size and the current owner.
4. Confirm Your Purchase
Once you have your digital money in your digital wallet and you've finally picked a plot of land, you can simply head to the metaverse's marketplace (or a third party platform) and click buy. Once your real real estate transaction is confirmed and executed, you should be able to see your NFT in your wallet. Moreover, you'll be recorded as the new owner of the land. As simple as that. From here, you might decide to hold on to your property for a while, build something on top of it or re-list it and sell it again - hopefully for a profit.
Where Can I Find Virtual Land for Sale?
In the previous we've mentioned some of the top metaverses that sell land. Before we get into some of the details, it's worth keeping in mind that most platforms will have a limited amount of parcels available. This helps boost digital scarcity and fuel a healthy virtual economy (one hopes). Decentraland for example, is divided into 90,601 individual plots of virtual land of equal size, while the Sandbox is made up of 166464 plots, which the platform calls LANDS. But there are many other options available, each offering territories suitable for all types of activities, like advertising, business, services and events. You can check virtual world rankings on OpenSea from a bird's eye view of the current market.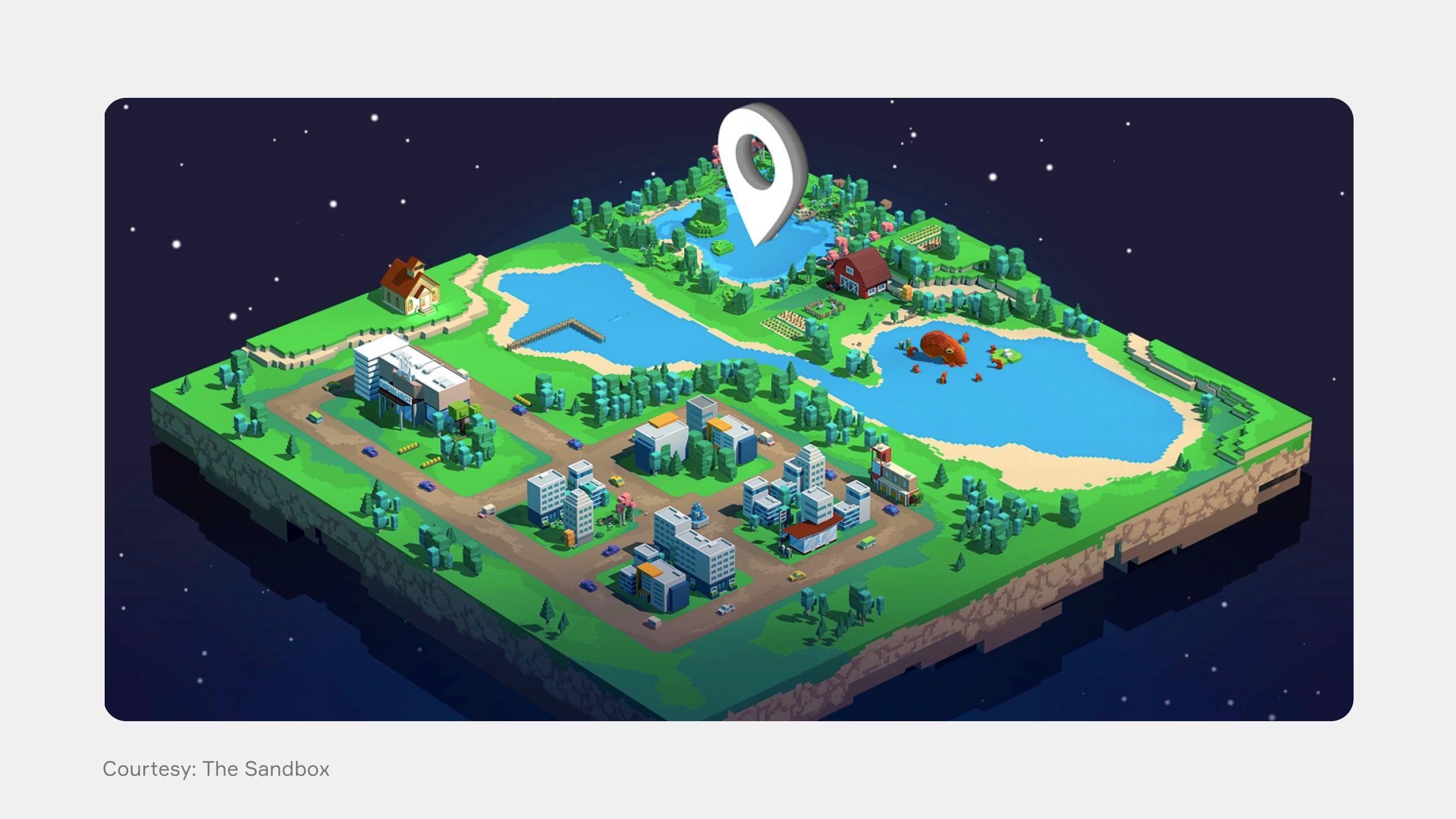 Top metaverses include:
The Sandbox – As touched upon above, lots on the Sandbox are marked as LAND and they can be found through the Sandbox's own platform or be purchased second-hand on some third-party NFT exchanges, such as OpenSea and Rarible. Bear in mind these have traditionally been more expensive than LAND in official sales.
Decentraland - Land in this metaverse has ranked at the top of most expensive sales, with plots going for millions. A lot of the allure of Decentraland is related to the platform's high profile partnerships with brands as well as its celebrity and influencer tenants.
CryptoVoxels – This is a digital world that ranks amongst the smallest, originally consisting of just 3,026 parcels. Those can be bought through primary sales or via OpenSea, in exchange for both USD and ETH. Unlike other metaverses, CryptoVoxels has kept expanding and currently features 7351 parcels. The lowest price for a plot of land is currently around 1.899 ETH (approximately $5,335 USD).
Somnium Space – This metaverse first came into the scene in 2018 and has a heavy focus on virtual reality offerings and it's known for its games and NFT art. As of the beginning of 2022, there were 5,000 unevenly divided land parcels in the platform. However, more land is expected to be released in the future. The currency of Somnium Space is $CUBE and plots of land can easily be found on OpenSea.
Is Metaverse Land a good investment?
As with any other emerging technology, there are risks and rewards associated with any investment you might think of making. And sure, metaverse land (and the lack of tangible assets) might seem like a mind boggling concept to many, but the potential of virtual worlds as well as adjacent technologies like virtual and augmented reality, and artificial intelligence can hardly be disputed. Only time will tell whether the metaverse is just another speculative investment filled with overpriced digital properties, or if virtual worlds are the future of the internet.