Many of us spend a huge amount of time on social networks. We scroll through endless streams of memes, photos and videos. And one thing is becoming increasingly difficult to do (besides quitting social media, of course), and that is telling apart what's real from what isn't. Sure, we all know that there's a lot of photo editing going on, but what you might not have noticed is that some of the influencers you're seeing online aren't real at all.
More likely than not, you've already come across a cool Instagram channel without realizing you're actually interacting with a fictional character. Worry not, you're certainly not alone.
Millions of people around the world are taking to Instagram and other platforms to follow and engage with a new wave of edgy online personalities: virtual influencers. They might not be flesh and bone, and yet they are deeply engaging (and entertaining).
So, today we're taking a look at the world of all-digital characters that are taking over our social media feeds - and making us question reality.
What Are Virtual Influencers?
A digital influencer is a computer-rendered character, also known as a 'fictional person' or robot, that is designed to appear as humanly as possible, featuring unique qualities, features, quirks and personality traits. As explained here, these digital characters are public personalities with a "a first-person view of the world, and made accessible on media platforms for the sake of influence."
There are a few characteristics that make a CGI influencer:
They must be computer-generated.
They usually resemble a human persona.
They have a backstory that others can follow and/or relate to.
They are able to influence audiences.
In recent years, virtual influencers have become a powerful and futurist marketing tool, with a growing number of sleek digital characters popping up on Instagram and other social networks, and generating large followings. Much like celebrities and bona fide influencers, these 3D models frequently appear on ads, brand collaborations and PR stunts.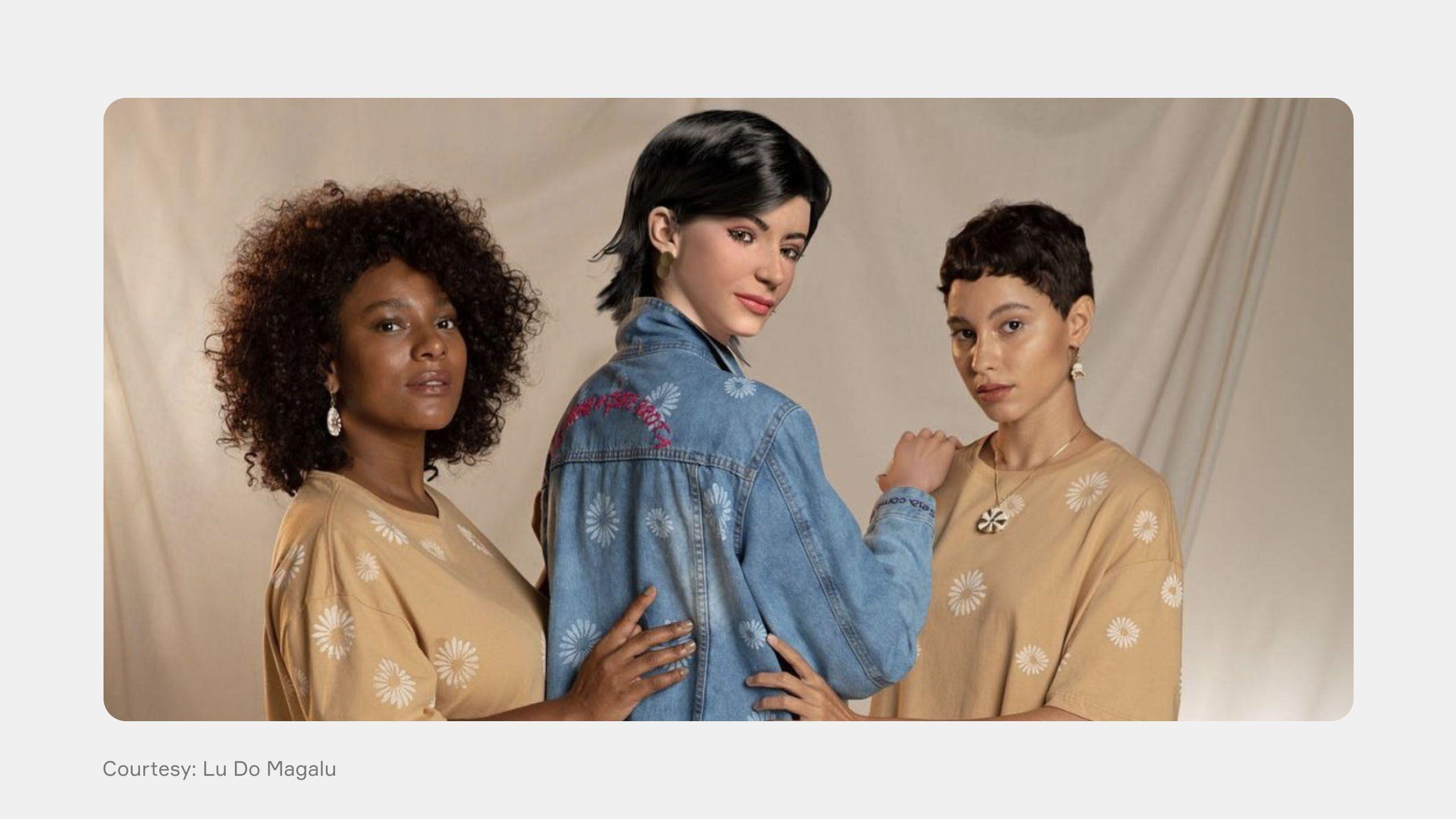 In fact, they've become so popular that, on average, that engagement rates by these influences are three times higher than a human on Instagram. A recent study has also found that consumers are jumping onboard the trend:
58% of those surveyed said they follow at least one least one virtual influencer
24% of users not following virtual influencers didn't even know they existed
27% of users follow virtual influencers for their content, 19% for the storytelling, and 15% because they inspire them
Robots taking over the world might seem like a scary idea, but social media is one place where they're redefining the limits of human and machine interaction in a seemingly positive way.
In some countries, like China, some digital influencers are considered 'virtual idols' and ranked side by side with celebrities. These computer-generated personas can take on diverse personalities, such as singers, artists, key opinion leaders (KOLs) and broadcasters. The market for these characters was expected to reach 6.22 billion yuan (some $1 billion) in 2021 alone. This is in part due to the fact that the country has a large investment in CGI technology, and latest advancements have allowed virtual idols to become increasingly lifelike, growing from having a 2D to becoming 3D personalities with huge followings and influence.
How Do Virtual Influencers Work?
Digital influencers are created through 3D imaging. And while everything they wear and the environments in which they live don't exist in real life, digital characters can crossover into the real world. In 2020, IKEA Japan released an installation where it created a physical home for Imma, the country's most famous digital model. Imma kept her fans updated in her usual fashion, on social media, in real time, as she explored her new house. But generally speaking, there won't be any real life sign of this type of a fictional influencer - so how's behind them?
Creators, be that individual designers or brands, are responsible for developing new characters and their biographies, growing their social presence and managing social media platforms. More importantly, real people are those who decide which brands digital influencers work with and the terms of partnerships and collaborations.
And of course, they also get to keep the money their digital influencers are making.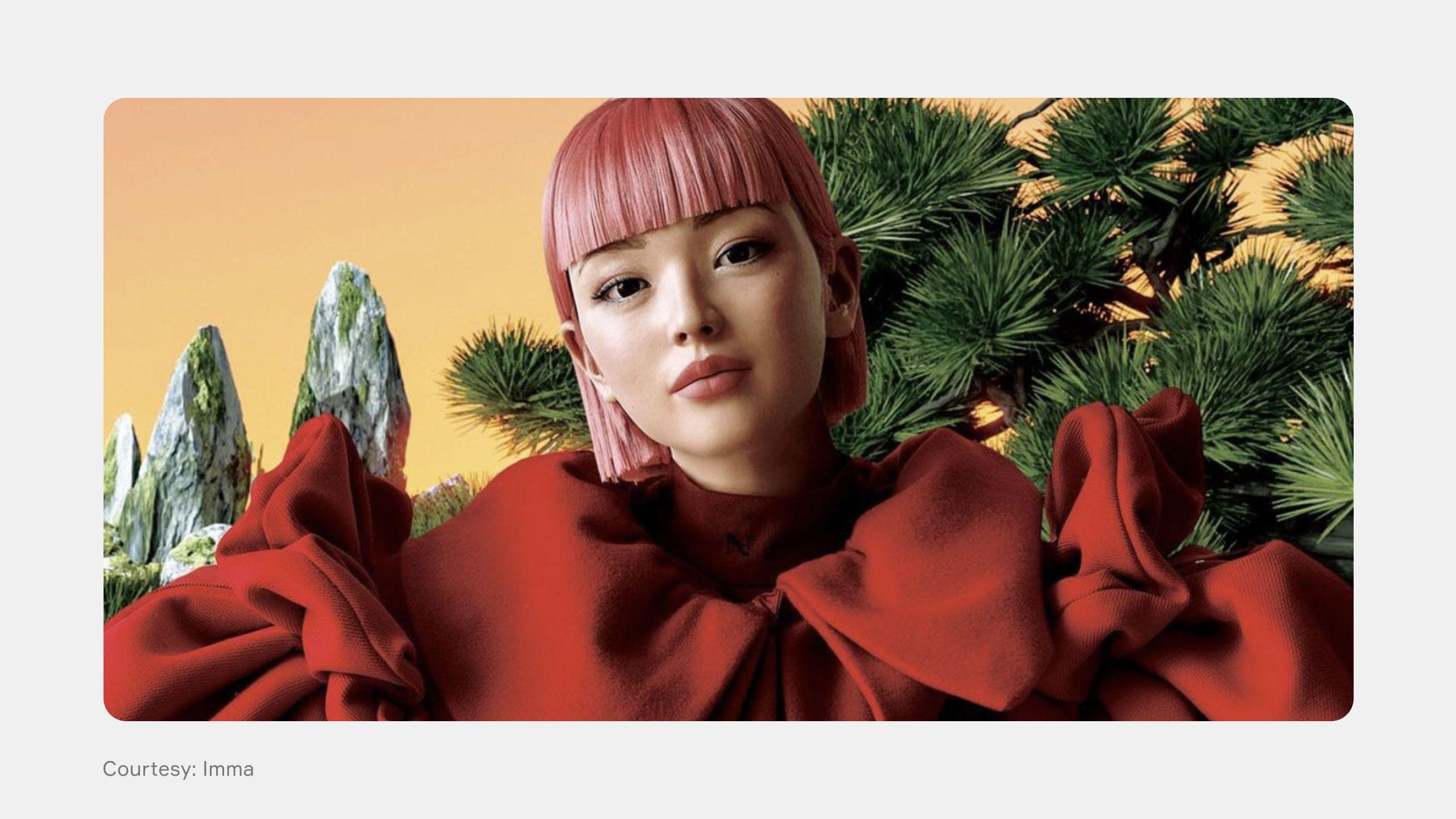 There are many examples of successful campaigns featuring synthetic influencers.
Yoox, a popular online fashion store with a sizable Instagram following, created Daisy, an AI shopping avatar upon whom customers can test out all sorts of combinations of products to see how they work together on a human figure. Last year, Xinhua, the Chinese government's media outlet, introduced a virtual news anchor that "can work 24 hours a day", while game developer Riot Games created Seraphine, a wildly popular game in League of Legends with a real-life social media (and large following) of their own.
Meanwhile, we've also seen some daring CGI experiments like KFC's re-interpretation of Colonel Sanders as a bon-vivant virtual influencer that managed to generate 151 million impressions for the famed fast food chain.
And in Korea, one of the most popular K-pop groups now features artificial intelligence virtual avatars as part of the band.
More recently, during the pandemic, the World Health Organization (WHO) also partnered with health and wellness virtual influencer Knox Frost to promote social distancing practices amid the global Covid-19 pandemic.
Why Do Designers Create Virtual Models?
At a time when brands are desperately trying to engage with online consumers in more meaningful ways, digital influencers can bring a deeper level of connection that celebrities, brand ambassadors and influencers can't. Why hire a human when you can create a digital influencer from scratch and perfectly adapt it to your product or services? Digital characters are a novelty the is likely to catch the attention of customers, but there many other advantages to be considered:
Creativity
Starting off with a blank slate allows designers to let their imagination run wild. This means that virtual characters can be modeled in ways that aren't possible to be replicated in the real world because there aren't any physical or technical limitations. It's exciting to think of the endless creative outcomes - from fantastical outfits to dream-like scenarios, there's little out of bounds in the world of virtual influencing.
Cost benefits
CGI technologies have become considerably cheaper and more advanced, opening up the door for more brands to create their own digital models. And as the market grows, we can expect an ever greater diversification of industries investing in this technology.
Branding and PR
Working with real-life influencers can sometimes lead to some public relations nightmares. A virtual model, on the other hand, can not only be cheaper but they're also "100% controllable", as explained by Christopher Travers, the founder of virtualhumans.org. Brands can have total control over their influencer's image, messaging, values and curate every single aspect that is visible to consumers. Travers also points out that these digital humans'' can appear in many places at once, and, most importantly, they never age or die."
Content adaptability
The fictional biographies and backstories of virtual influencers are crafted in such a way that brands can organically shape it according to whatever marketing purposes they have. This also makes it easy for companies to create ambassadors that are perfectly tailored to them, as opposed to searching for human influencers and trying to find those with the ""perfect fit", which can be a time and cost consuming process.
Accessibility
Not everyone is able to hire Kendall Jenner to plug their product on Instagram. But with digital characters, even smaller brands invest in a futuristic and engaging influencer marketing too without breaking the bank.
Representation
Lack of diversity and representation has long been one of the many criticisms of some sectors with great online visibility, particularly fashion. The rise of digital options has allowed fashion houses like Balmain to commission a mix of more diverse faces to model their campaigns.
No human "problems"
A 3D model won't ever throw tantrums, show up late, have pimples, be unavailable to be booked or demand unreasonable payment for their services. The relationship with digital models can potentially be easier to manage when compared to their real world counterparts, adding another benefit to their existence.
Lack of regulation
Real life influencers are now subject to strict advertising regulations across many countries. In some cases, influencers must add a disclaimer stating that their photos have been edited or modified in some way. For now at least, there aren't regulations in place that target virtual influencers, although Meta has revealed it's looking into imposing some ethical guidelines.
Brands Leveraging Virtual Influencers
Nowadays, the world has been taken over by social media influencers. They have thousands or even millions of followers, and charge hefty fees for each post they make on their channels.
From skincare to health, travel and wellness content, social media has become a one stop shop for many brands to plug their products. But while human influencers have become an effective sales tool, the next marketing revolution is set to be artificial intelligence - and next-generation virtual influencers (also described sometimes as artificially created 'virtual humans').
With the popularity of these models taking over social networks, the list of CG influencers is only growing. A great part of the appeal has to do with the way in which products can be inserted into the life of a virtual influencer. Their narrative and their life story can be perfectly adapted to the product of service they're advertising. That's much more challenging to do with a real-world influencer.
Here are just a few examples of how brands are leveraging the technology:
Puma - Maya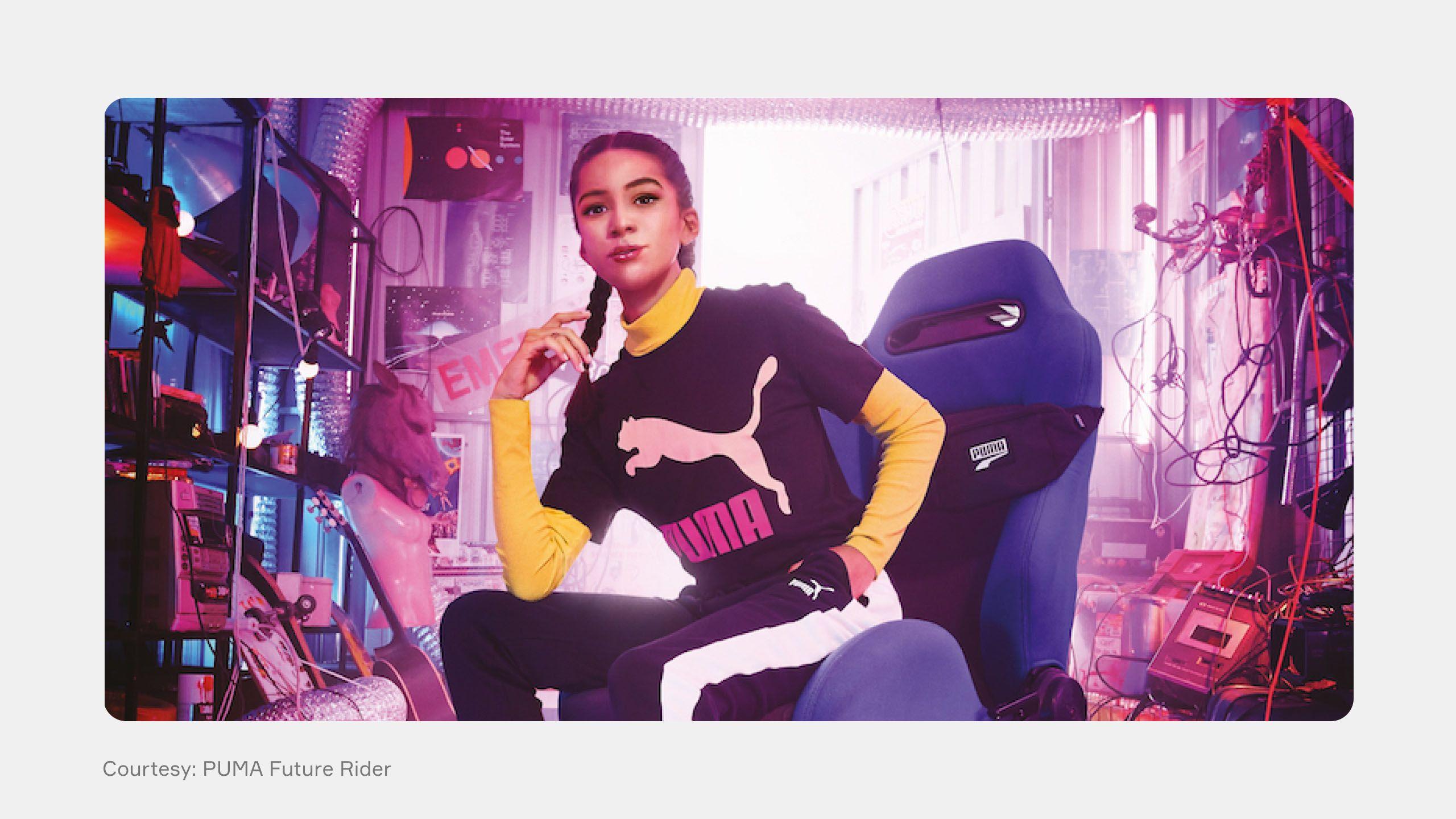 Riding on the avatar-and-pixel wave, sportswear giant PUMA chose virtual influencer Maya to head its Future Rider campaign across a number of Southeast Asian countries last year. As an incredibly diverse region, companies have often struggled to find influencers capable of appealing across all markets. Maya, who's also Southeast Asia's first digital model, was created specifically to embody different cultures. Puma also explained their choice, saying that Maya was the perfect fit for the brand given how relatable, fresh and fun she is. Meanwhile, the creative team behind this virtual influencer also noted that the "the rise of virtual influencers is not an indication that they are human replacements, but rather, a form of escapism and fantasy that provides audiences with a canvas to project their voices, interests, and personalities."
Prada - Candy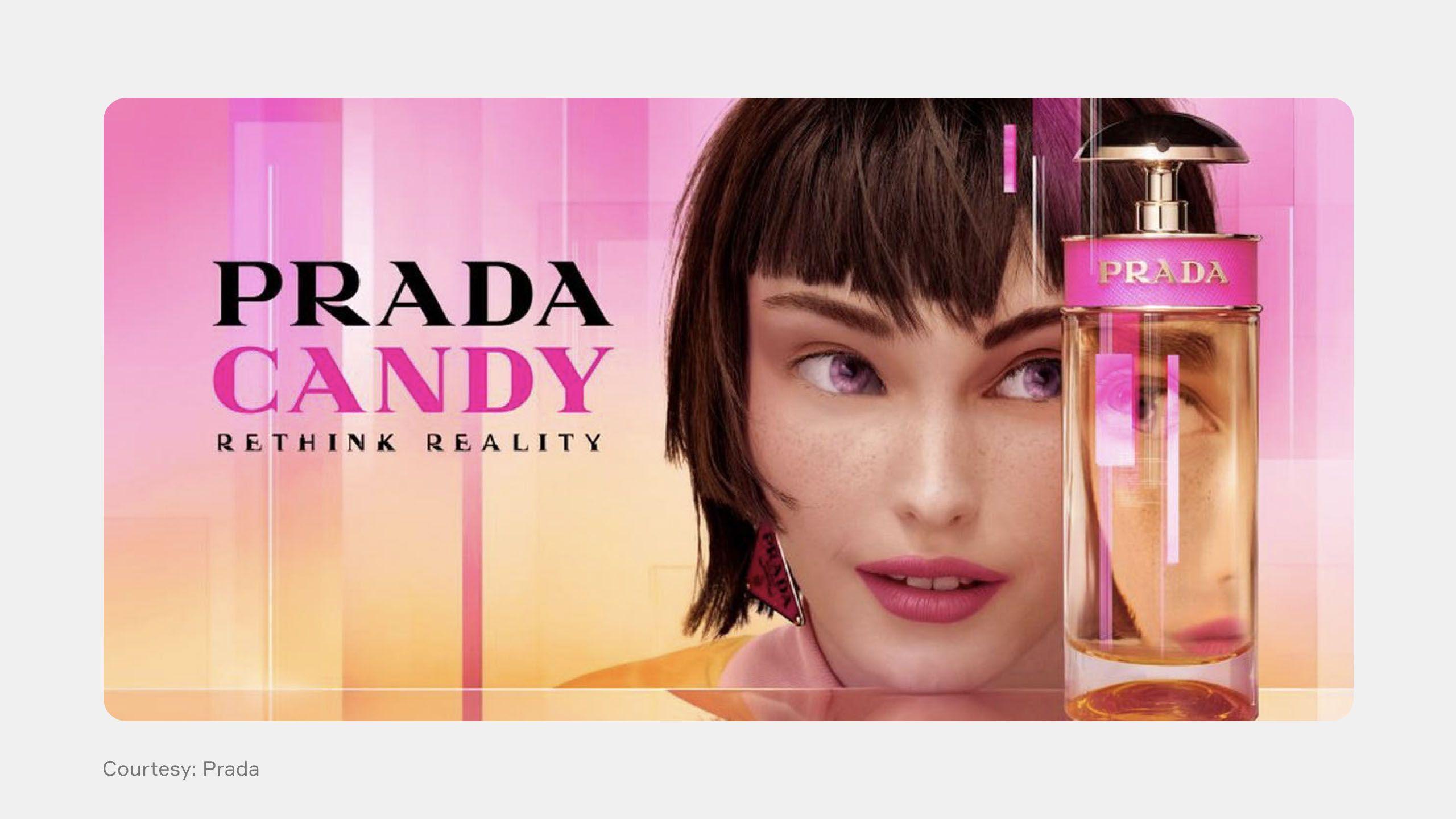 Luxury brand Prada opted to leave out traditional celebrity and brand ambassador for one of tis latest perfume campaigns, debuting instead its own 'virtual muse' - Candy. The virtual influencer led a campaign where she modeled a number of Prada pieces and promoted a fragrance collection. A spokesperson explained the campaign as opportunity to explore new heights, saying "as her own reality glitches, she begins to perceive another, expanding her existence through the power of technology. Free of constraints, her curiosity grows, new creative perspectives are opened and with them, an invitation to rethink reality." Candy is featured in several advertising formats including a print campaign, short films, and social platforms such as Twitch, Snapchat, and TikTok, where she interacts with the real life perfume bottle. The fashion house went on to collaborate with other virtual influencers, including Miquela Sousa.
Balmain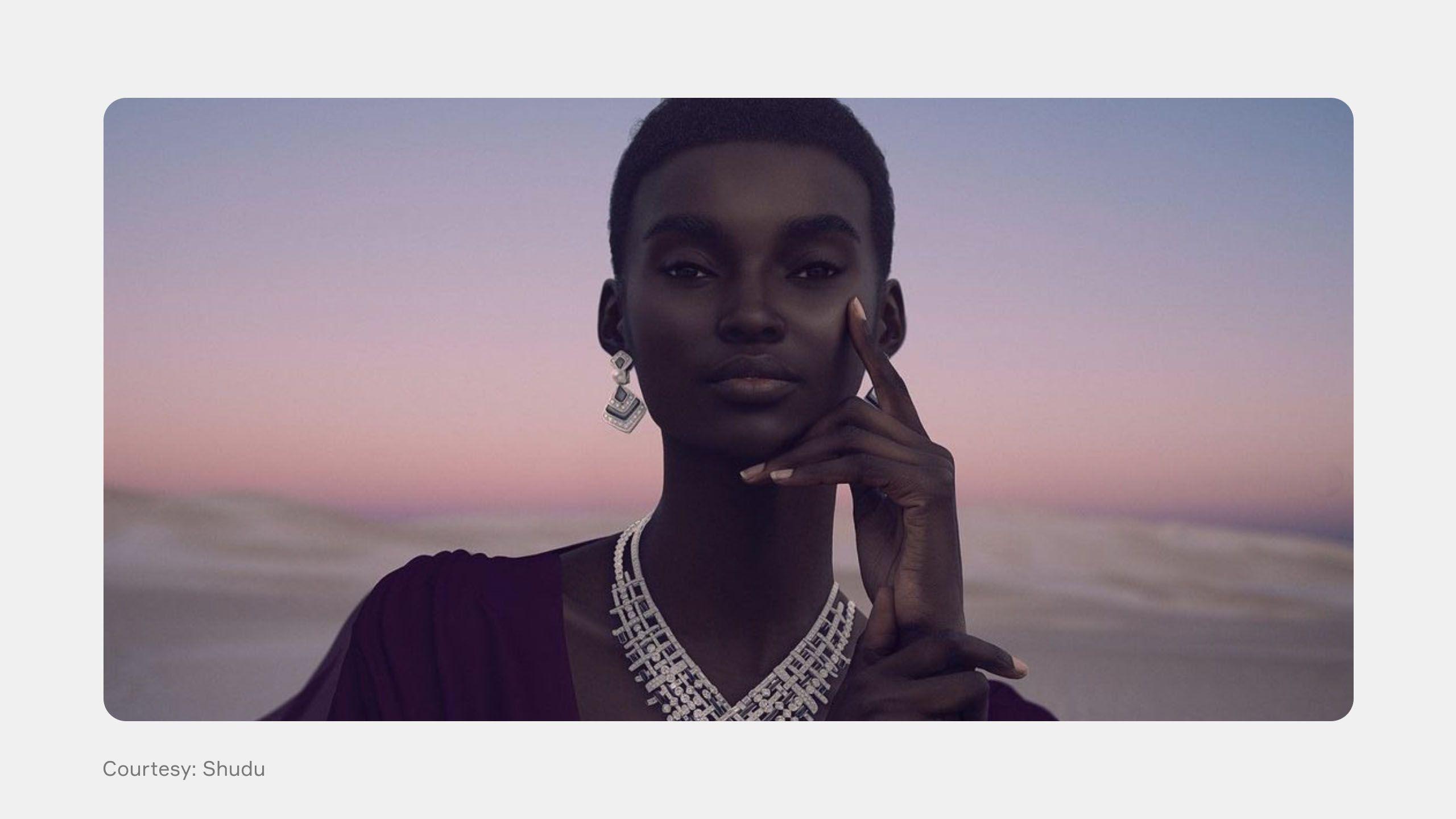 Looking for a more diverse lineup and a fresh approach, the iconic luxury fashion house Balmain rolled out a so-called "virtual army" of digital models to show off its 2018 collection, which have since been used for the brand's virtual showroom campaigns. The lifelike models were created by photographer Cameron-James Wilson, who famously created the world's first digital supermodel Shudu in 2017. The clothing was "styled" in collaboration with CLO. Despite the success of the initiative, Balmain's current creative director, Olivier Rousteing, has noted that real-life models don't need to fear being replaced. "I might be one of the most digital persons in the fashion industry, but there's one thing you cannot bring into digital today and that's the emotion of a real experience," he said.
Imma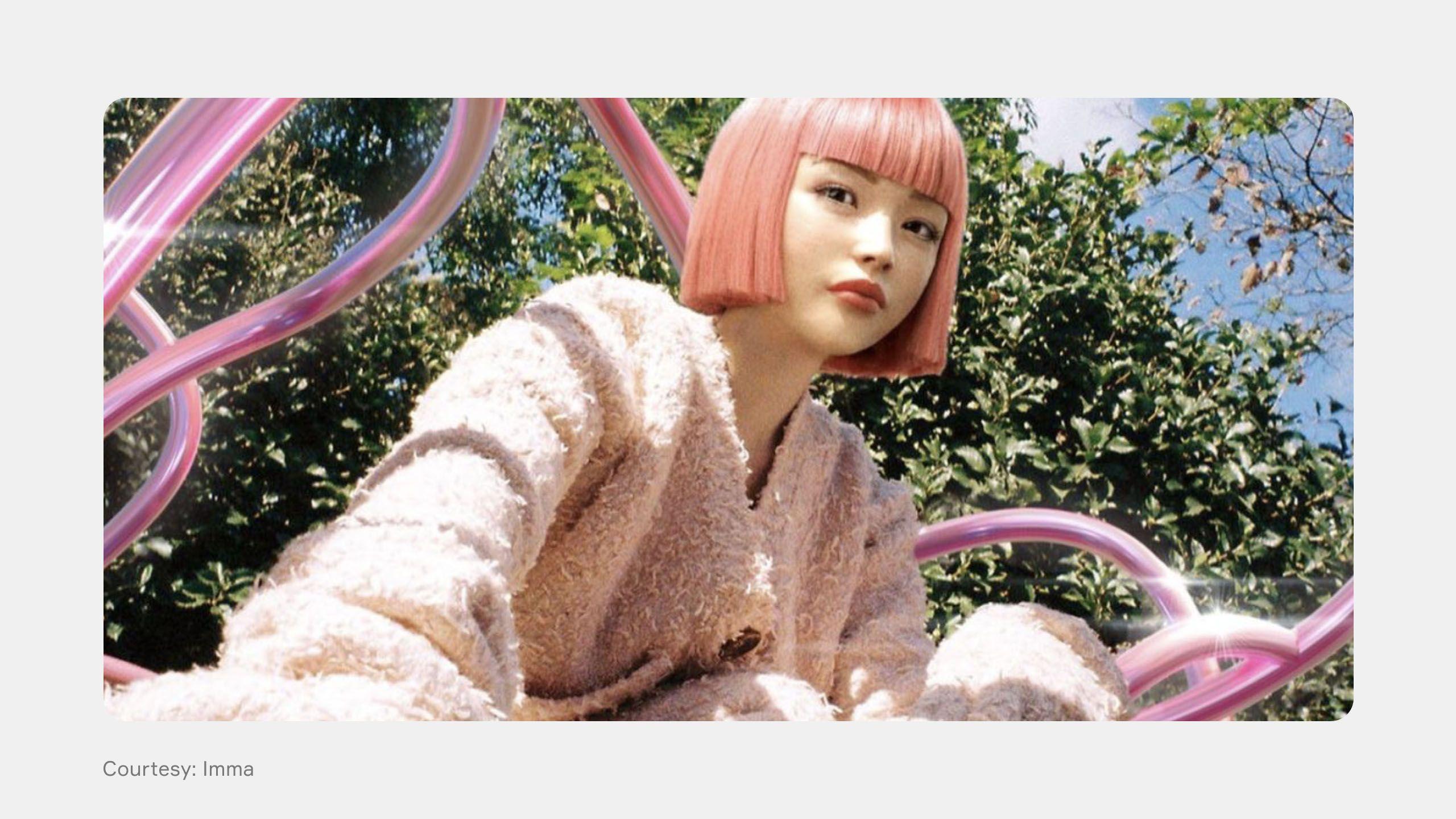 Imma was created by Tokyo-based CG company, which specializes in building virtual worlds and models for games, movies, and commercials. She has become a familiar face across advertising campaigns and magazine covers in Japan, earning her the nickname of "It Girl" in the country. With over 350K followers on Instagram, she has already been the face of renowned brands, including IKEA, Amazon, Valentino, Dior, Puma, Nike, and Calvin Klein. Imma was also chosen as one of the "New 100 talents to watch" in 2021 by Japan Economics Entertainment and was selected as 'Woman of the Year 2020' by Forbes Women. When she's not shooting ads, this hyper-realistic Japanese model can be seen traveling across real-world locations, having adventures with her dog Einstein and communicating with fans just like a real person would.
Miquela Sousa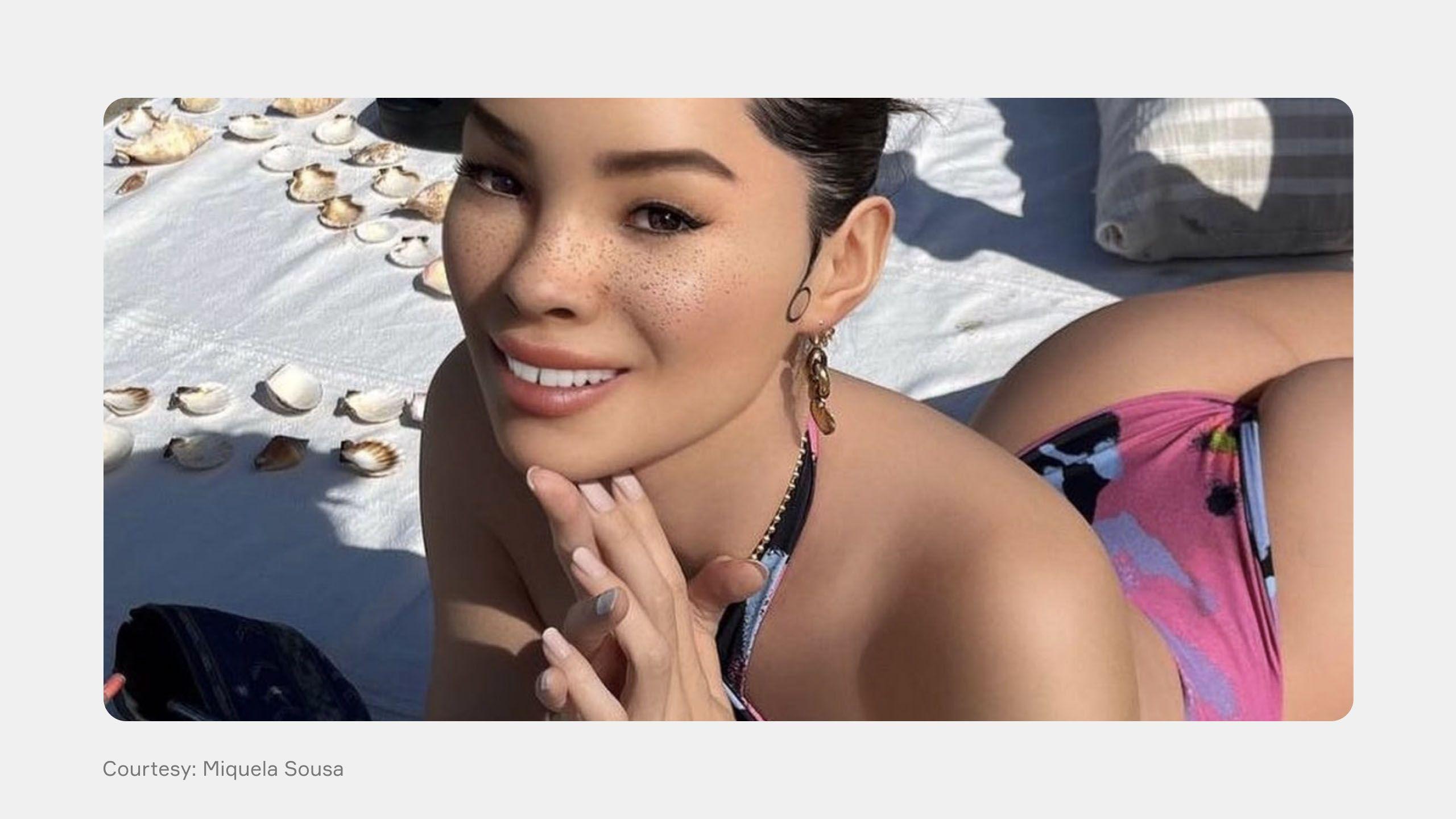 Miquela Sousa, also known as Lil Miquela, is perhaps the most famous virtual influencer. Since their creation in 2016, Miquela has managed to amass over three million followers on her Instagram account and has become a household name in the fashion industry as the face of Prada, Calvin Klein, UGG, among many other brand deals. Such is her popularity that she was named one of TIME Magazine's '25 Most Influential People on the Internet' in 2018, earning some $20 million in 2020 alone. Besides being a picture perfect model, Miquela has also released a series of singles on Spotify.
How To Create A Virtual Influencer
Not only major brands and companies are capable of creating a virtual influencer. You too can develop a digital character that can have a real relationship with an audience beyond collaborating or partnering with brands to sell products. There are a few things to keep in mind during the process of creating a virtual influencer: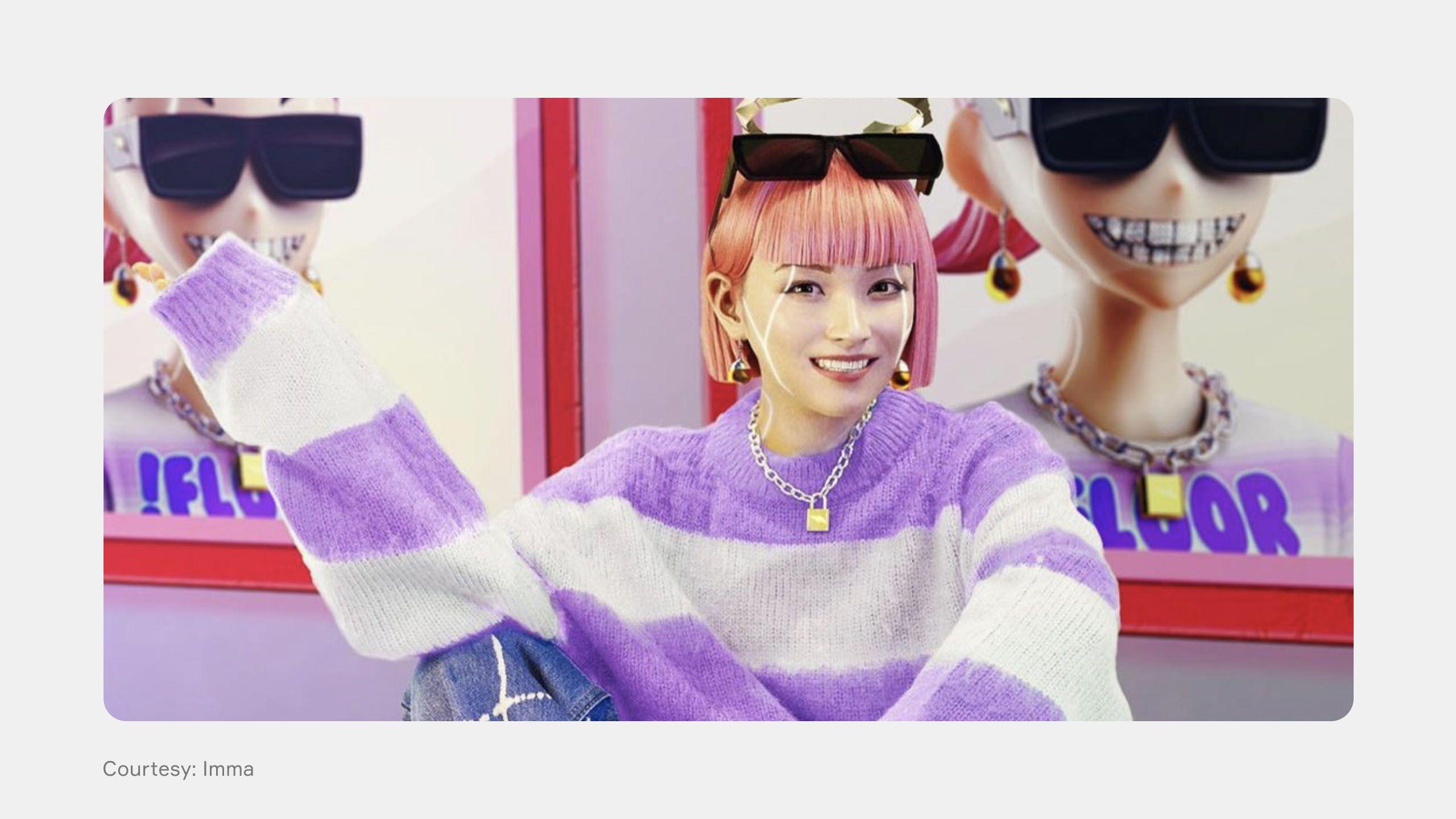 Avatar: Before you get started, you'll have to consider how you'll want your avatar to look like, what backstory they might have, the personality traits and quirks that can set them aside from a traditional influencer. The key to building a successful digital influencer is not just having appealing aesthetics that audiences can relate to, but also a personality (with views and beliefs) that people can form a connection with.
Audience: Who are the type of people who your digital influencer can appeal to and communicate with? For this step, you'll need to do some thorough market research where you'll try to break down demographics and psychographics, consumption patterns, content and imagery of preference, etc.
Technical skills: Once you've decided the identity of your character and the audience they'll be targeting, you can start developing your virtual influencer. 3D modeling and animation skills are key to getting your project off the ground. If you're not familiar with the type of software and skills needed for this step, there are plenty of free tutorials available on YouTube to help you get started.
The Future of Virtual Influencers
Whichever way we see it, the virtual influencer trend is here to stay. They're hip, futuristic, fun, relatable and perfectly tailored to the audiences they aim to reach. They're also the perfect tool for brands to enhance their reach, improve influence marketing and connect with consumers through innovative storytelling.
Sure, blurring the line between real and unreal' can sound worrying and scary at first; we trust our favorite creators for a number of reasons and if they turn out to be AI-generated avatars, we might be right to question the technology at first. But at the end of the day virtual digital influencers aren't much different from real-world influencers on Instagram or YouTube.
We see them through a screen and communicate with them through social media platforms the same way in both cases. And as we explained before, real people are behind these virtual influencers, controlling the way they look, what they say, how their life unfolds, what products they advertise, etc.
As the novelty of the technology fades, CGI influencers could become even more common.